Film Discussion: Lady Bird
A roundtable discussion on Greta Gerwig's highly acclaimed film.
November 30, 2017
EMMA GERDEN: Recently, we went to see "Lady Bird" in theaters.
BAILEY NEMIROW: It was a fantastic movie!
EG: I really really liked it.
BN: It's the highest rated movie on Rotten Tomatoes right now – I think it broke a Rotten Tomatoes record.
EG: Plus, it's an A24 film, so you know it has to be good. Alright, let's get right into it. There are five categories we'll be talking about: acting, plot, cinematography, editing, and our overall thoughts.
ACTING
EG: I thought the acting was great… Saoirse Ronan was absolutely fantastic as Lady Bird, aka Christine.
BN: The acting was definitely my favorite part of the movie. Timothee Chalamet was also great.
EG: He's so talented. He had a smaller role in "Lady Bird", but I think he's going to be a huge star as a result of his other movies, especially post-awards season. Lucas Hedges also had a great performance playing Danny, very different from his role last year in Manchester by the Sea. But it was Laurie Metcalf's performance that blew me away the most, playing Lady Bird's mother.
BN: "Lady Bird" is a big contender for award season. Saoirse will definitely be nominated.
EG: Didn't she win an Oscar for her role in Brooklyn a couple years ago?
BN: I don't think she won, but she was nominated. I'm not sure if she had enough material to work with here to have an Oscar-winning performance, but she deserves a nomination.
EG: I agree. Beanie Feldstein also really delivered with her performance of Julie, Lady Bird's best friend. Overall, such a talented cast of actors, and they meshed so well together. It allowed for some amazing dialogue and dynamics. Also, some hilarious one-liners.
PLOT
BN: So the movie takes place in Sacramento, California, in 2002. It follows a girl's senior year of high school – her name is Christine, but she gives herself the name "Lady Bird." It's a coming-of-age story, but it really focuses on her relationship with her mom.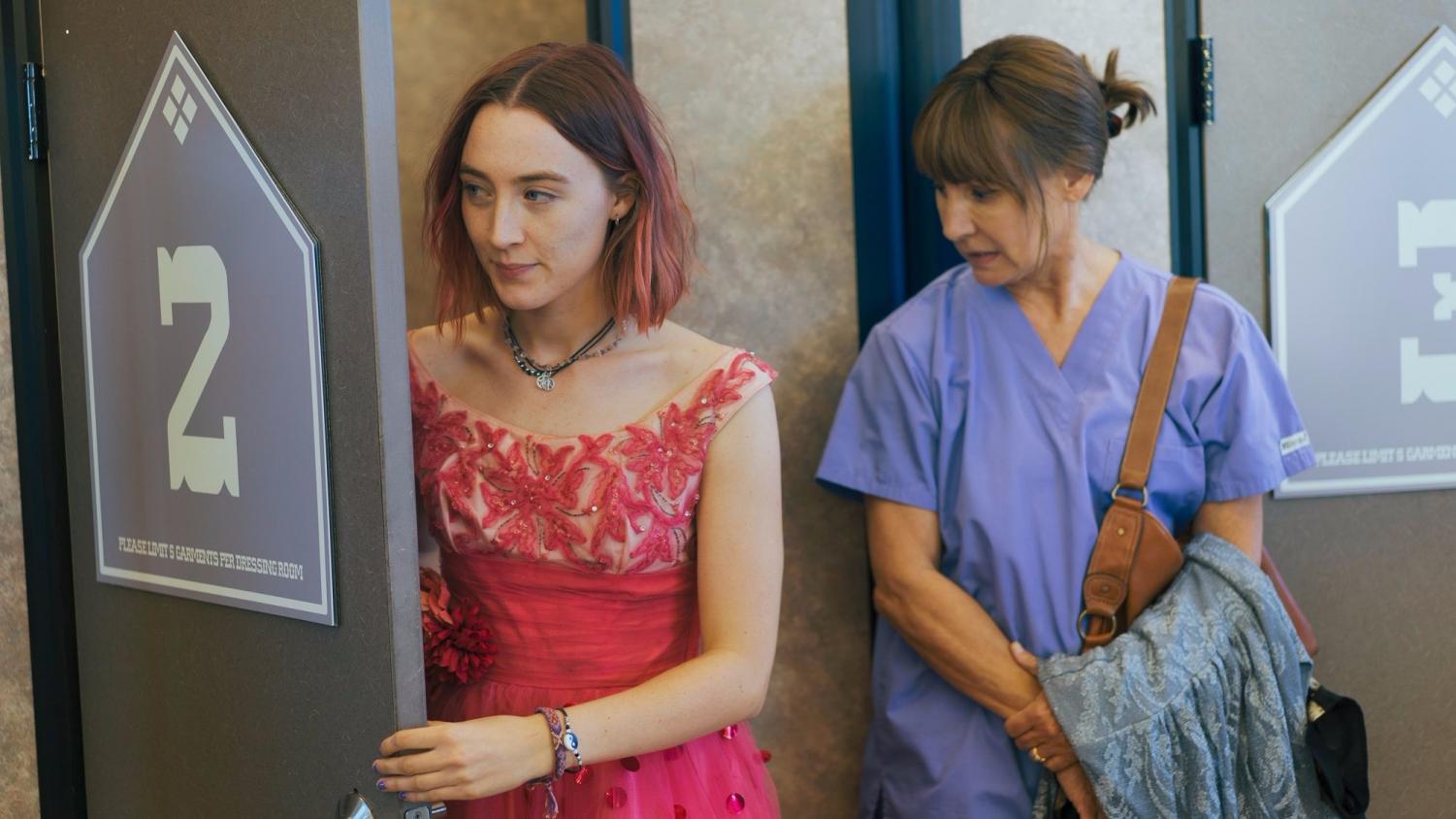 EG: That's what I really liked about it – coming-of-age stories are done all the time, but this had a unique twist to it. It wasn't overly dramatic or romantic, and instead focused very realistically on different relationships. Like Bailey said, especially with her mom.
BN: I liked that it felt really personal, because you know that Gerta Gerwig based the film on her own life experiences. She wrote and directed the movie, and it was her directing debut.
EG: Really good for a debut. I also liked how the plot was loose – as in, there's not really much else to say except that Lady Bird goes through her senior year, longing to get away from Sacramento. There's not a two-word plot summary, if you know what I mean. It's just very realistic. Lady Bird is dealing with friend problems, boys, high school, getting into university, financial struggles, and her family. Everyone can relate to the movie in some way. And I really liked that.
BN: Let's talk about the cinematography.
CINEMATOGRAPHY
EG: Lilly, come here.
LILLY OMIRLY: Sup.
EG: We know you have mixed feelings about the cinematography in "Lady Bird". Personally, I enjoyed it. Maybe not the best I've ever seen in my life, but I liked the variety of shots and angles that Gerwig used. The camera was used in a personal way, which fit the film. Gerwig knows how to pull the audience in.
BN: I liked the colors, too. They were warm tones, lots of brown and yellow, but I think it really fit the Sacramento storyline and life of Lady Bird. She grapples with her relationship with her hometown, and I think that the color choice shows her struggle.
EG: I think so, too. She longs to move to a east coast city, where, as she says, "real culture" is, and the colors change as she moves. Lady Bird and her family struggle with money and often compare their life to her "rich" friends, and I think the color is used very nicely here also, comparing her dull universe to the bright colors of fancy neighborhoods.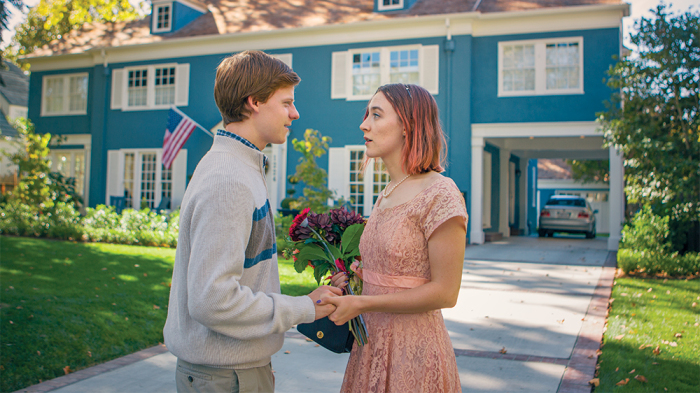 LO: I think with A24 films, there's a commonality of having very distinct color palettes. But this film, personally, lacked that in my opinion. I did appreciate the lack of saturation when we, as the audience, looked in on Lady Bird's home life, because it allowed us to kind of see through her eyes and how she sees her home life. Juxtaposed with the highly saturated neighborhoods of her other classmates.
BN: What did you think about the wide shots? Personally, I liked them.
EG: I liked them as well. The landscape of Sacramento was important to include – the film was almost like a homage to the city, since that's where Gerwig grew up. There were some really beautiful shots.
LO: I don't think there's anything wrong with wide shots. But I know that A24 is known for their creativity and variety in how they film certain scenes. Personally, I think that the film could have used more handheld shots. Those shaky cams convey more of a chaotic sense, and I think that really would have added to Lady Bird's character. It would've helped us have more insight into how she sees interactions with people, possibly. So overall, I was personally disappointed with the lack of diversity of shots.
BN: While I think that the shaky cam would have added more visual intrigue to the film, for a coming-of-age story, the wide shots made a lot of sense. We aren't exactly a part of Lady Bird's story, we're looking in at a very vulnerable part of her life. And I think the wide shots kept a distance to the audience in that we were observing.
EG: A shaky camera would have added that kind of anxious, panicky vibe. But I don't necessarily think that it needed that. Not in this film. It was just… the movie played much like a memory. Warm colors, nice textures, the 2002 setting, California landscapes, old-school songs. Also, unrelated, but the movie had a great soundtrack. Anyways, back to the point – a handheld camera could have been a bit too… jarring. It would have felt too present-tense, instead of that nice reminiscence we get.
LO: For me, it's not just that we needed a shaky cam. It's just that I felt that because we didn't get a variety of shots, I got a little bit bored with what we were seeing. It's just a personal thing. It's just what people like to look at more, it's not just one thing is definitely good or bad.
EDITING
EG: I know there are some mixed feelings here. I, for one, thought the editing was interesting. There were a lot of quick shots, scenes that ended quickly, almost abruptly.
LO: Being someone that does a lot of editing myself, I've developed a style that I enjoy personally. And this film kind of went against that, which isn't necessarily a bad thing, just something that stood out to me. This film was a fan of cutting off shots right when scenes ended, and to me, that was a little alarming, as I tend to enjoy letting shots linger towards the end of a scene. Just so that the viewer can fully understand and comprehend the magnitude of the scene that's happening. When you have that pause, it helps to understand why the scene is important.
EG: I have to say, though, that I thought some of the quick scene changes really fit the story. You know, this is a senior girl, a lot of things and changes are happening in her life, and it's overwhelming. I mean, we're all around Lady Bird's age here. We can certainly understand that life moves fast. It's not so much the quick cuts themselves that I liked, but the feeling that it left me with. And I think that was the purpose.
BN: I also think that the quick shots reflect Lady Bird's character a lot. And with the screenplay, I think the way it was written, it needed quick shots. The director wrote the screenplay as well, so I think she intended it to feel fast-paced, even though the scenes sometimes went on. The lack of transitions is what allowed it to have a chaotic feel.
EG: Exactly.
LO: As for how Lady Bird was portrayed in the film, I would have liked to see more into her mind. All we saw were her outbursts, and how she was reacting to certain situations, but we didn't really get the 'why'. That would've been interesting to see from her character – all we see is her constantly criticizing her mother.
EG: We definitely saw Lady Bird fight with her mother a lot. But in contrast, we also got a lot of almost trivial, natural conversation between the two of them. Like when they were shopping at the thrift store together – they were just talking, and it sparked into a stupid argument. Same with the opening scene too, actually. The dialogue between Lady Bird and her mother was just so organic, a product of both great acting and a great screenplay. It's just so relatable. So, at least for me, I did get that 'why' question answered.
BN: I agree, I feel like there was a 'why' there. It was just hinted at, moreso.
EG: Yeah, it was very subtle.
OVERALL VIEW
LO: Overall, I know I was pretty negative. But I genuinely did enjoy the film, and wouldn't mind seeing it again. So I would give it a solid 7/10. But definitely not worth the perfect rating on Rotten Tomatoes.
BN: I think I'll give it a 7/10 as well. While I really enjoyed it in the moment and I like discussing it, I don't think I had as big of an emotional reaction to the film. I appreciated it in an artistic sense, but it wasn't something that affected me. It didn't inspire me. 
LO: Yeah, you weren't left with any moral realizations- like, you didn't have any existential crisis after the film.
BN: Kind of, but even on a smaller level it didn't effect me.  I'll consider a movie as great when my mood or opinion changes because of the film, and "Lady Bird" just didn't quite do that for me.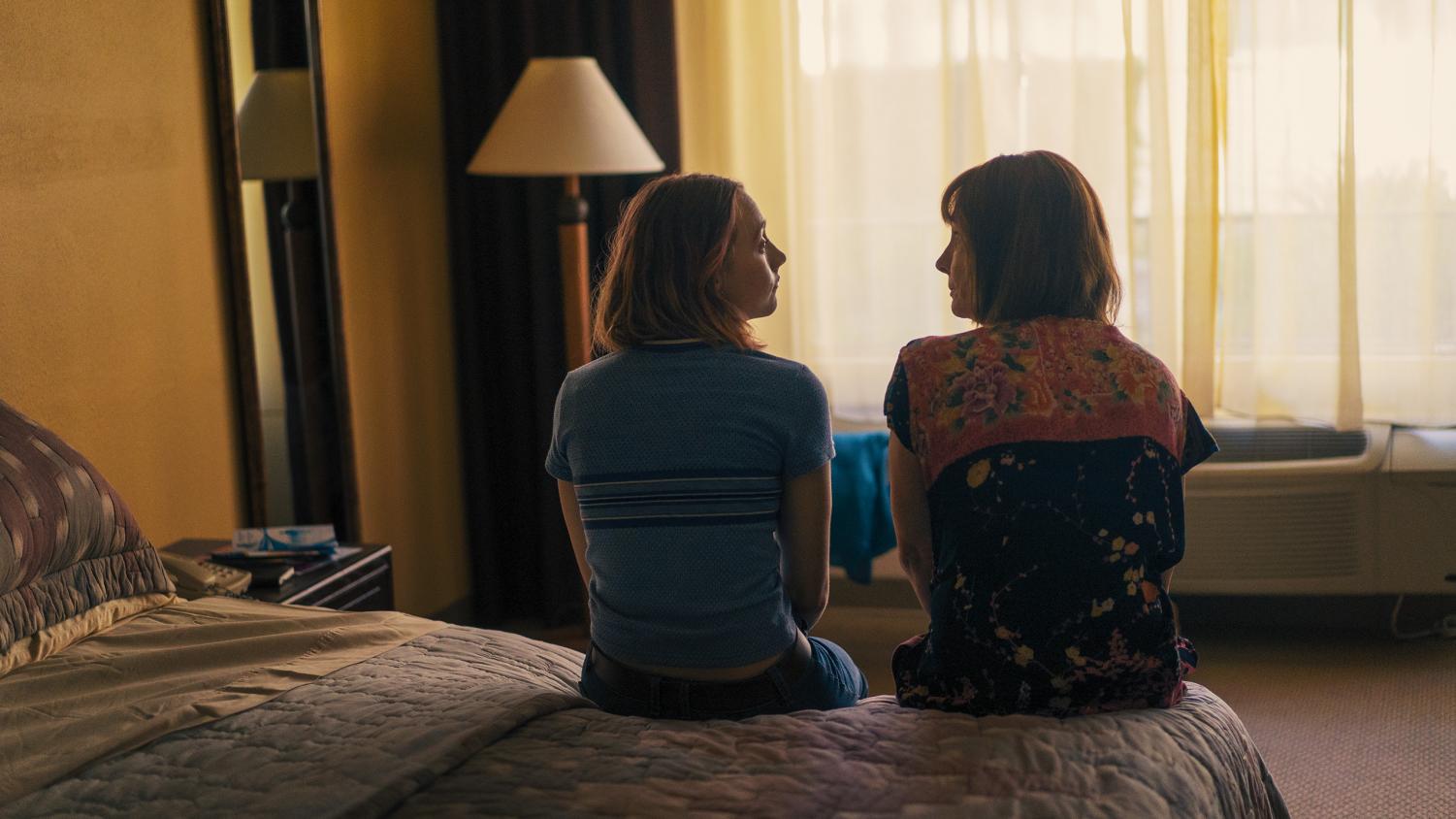 EG: For me, I think I have to disagree. I didn't leave the theater with anything as extreme as an existential crisis, but it did had an emotional impact on me.
LO: Emotionally, it was easy to connect with the film, as we do fit the age range of Lady Bird. It's easy to connect with her moral dilemmas as they apply to our own lives. But aside from that, the film as a whole isn't something that left me with questions that I don't already know the answers to.
EG: I'll give this film an 8.5/10. I appreciated the characters and dialogue, most of all. Although other aspects definitely weren't perfect, I really did enjoy the story itself. I would highly recommend seeing this film.
LO: It's definitely worth your time and money to go see it, if you haven't already. Everyone will walk out of the film liking at least some aspects. And storytelling wise, people can learn from how Lady Bird's life was portrayed.
Have you seen the movie? Let us know your own thoughts in the comment section below! 
This film was rated R for language, sexual content, brief graphic nudity and teen partying per the MPAA.