Old Rival, New Star
A scorching hot Saturday evening, with humidity levels making the weather even worse. The tension in Patten Stadium was extraordinarily high; fans from both sides were focused in on the game. Sweat dripped down on them but they ignored it—they wanted to make sure that they didn't miss any little detail. Impatiently, they waited for the Charlotte Latin quarterback to snap the ball.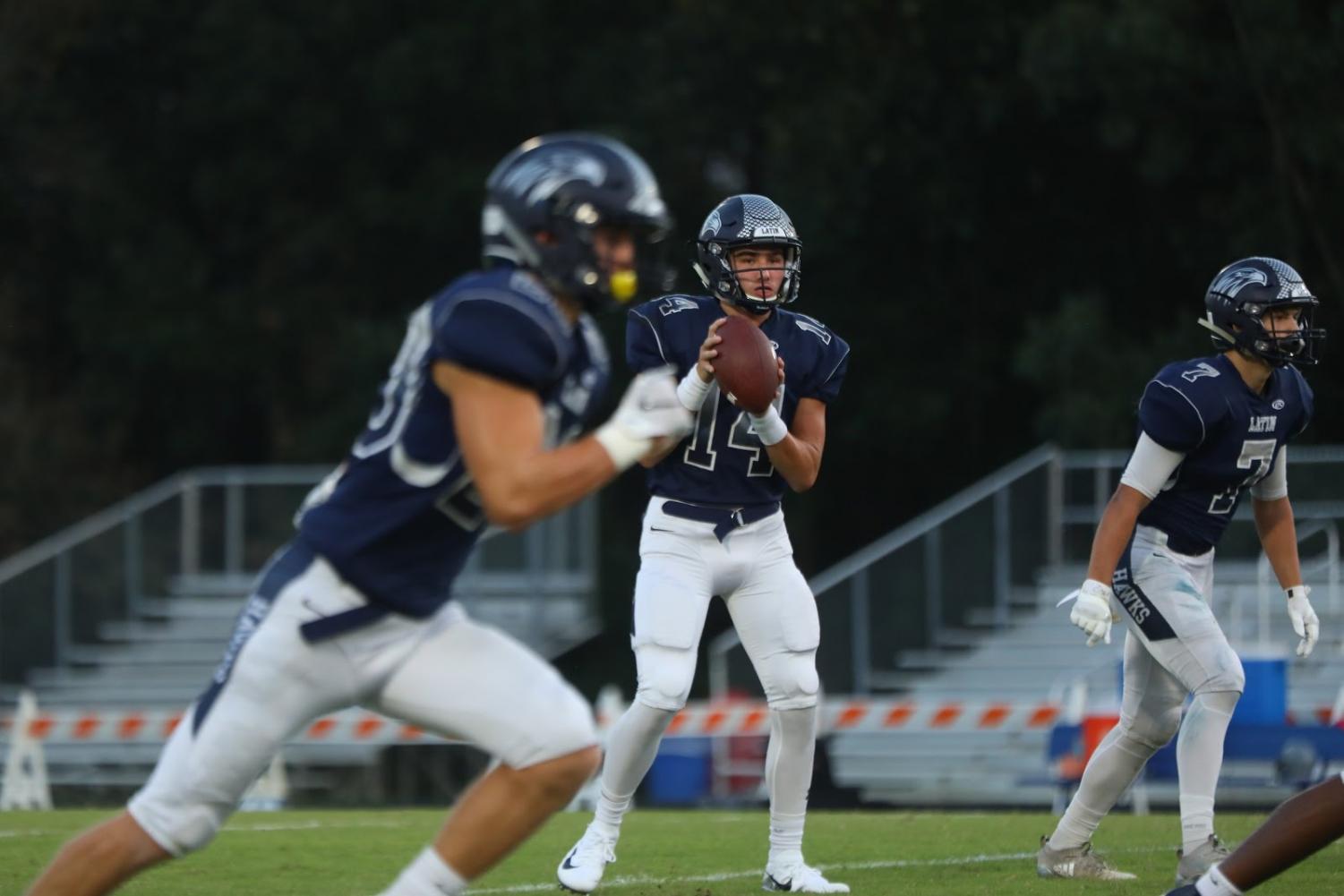 The score was 21-21 at a crucial 4th and 7 and since it was an overtime game, if the Hawks did not convert here the Woodberry Forest Tigers could steal a game away from the Hawks at home. Go! The Hawks' quarterback caught the snap and rolled out to the left—he fired a pass to the heavily covered Andrew Sumichrast. A perfectly placed ball, away from the defender, but right where Sumichrast could catch. "Touchdown!" signaled the ref and the crowd went berserk.
Fans celebrated and players buzzed with excitement, giving out high fives and hugs, congratulating each other. When things settled down though you could only think, if this quarterback had made this same play last year, we surely would not be cheering.
Standing six feet tall and weighing in at over one-hundred and seventy-five pounds, Jake Helfrich looks confident and courageous on the Hawks' home turf. However, what makes his presence on the field unique is that Helfrich is new to the blue and white–Helfrich is a transfer student from arch rival, Providence Day School. Helfrich felt that Charlotte Latin offered him  "better opportunities both in academics and school",  which represented "the main reason for the switch."
So far his experience at Latin has been positive, particularly through friendships formed.
"My most favorite thing has probably been meeting new people and making new friends seeing new faces every day any particular people my receivers like Kambridge Tuttle and Randy Johnson and of course my Offensive line I love my O-line I really just like everyone here" Helfrich said.
For Helfrich, Latin represents more than just a chance to sharpen his skills on the gridiron.
"I like art I take art class with Mr. T and I really like the class and him." Helfrich said.
He has enjoyed Latin's art program and feels it is something surprising most people do not know about him.
Regarding his football career, Helfrich has set high standards for himself. One of Helfrich's goals this season is to win it all, "ultimately I just want to win every game we play this season and go undefeated and get another championship for the school" as well as "to get better every game and have the team get better every game."
Helfrich loves the Charlotte Latin football team, because he feels welcomed, Helfrich receives a feeling of family from the team. "there's a sense of family; it's not about one person and there are no individuals on the team." Helfrich also has a great relationship with all of his coaches; he describes their relationships as a father-son relationship. "it's great like a father-son relationship with all of them whether it's the offensive coaches or even the defense of coaches I'm close to  all of them." Helfrich says
Ultimately, Helfrich's goal for football is to play at the college level. "I describe myself as  dedicated." Says Helfrich, "because I have a goal and dream and a vision in my head that I work hard every day to achieve".  
For Helfrich football has served as more than just an opportunity to showcase his skills; it has also helped him progress as both a leader and a person. Helfrich feels that football has taught him several life lessons, such as "being able to work with others."
Helfrich also believes that football has taught him how to be a better leader. As a leader Helfrich tries to show others the respect he has for them. Helfrich plans on becoming a more vocal leader this season as well. " I try to lead by example and show others the respect I have for them and the team; becoming a more vocal leader is a goal that I have for the season as a leader."  
Helfrich wants to play college football, preferably at NC State; Helfrich says, however,  "anywhere in-state is good with me."
"Touchdown! Helfrich with his second of the game!" The announcer called out as the Charlotte Latin Hawks continued to throttle the Reynolds Miller Academy Lions. This Helfrich touchdown was different than the others for the fans; Helfrich as the quarterback was familiar for the fans and their trust in him could no longer be questioned.
Leave a Comment