Papa's Letters
Out of all the shells in the sand, Papa chose me.
Guided by the rising sun and his curiosity and comfort in solitude, my grandfather searches for keepsakes that speak to him on his early morning beach strolls.
As a shell collector, he seeks and finds beauty not solely in the possession of the tangibles but more so in the journey of discovery. 
Holding the shells against his ears and hearing the sound of crashing waves, they empower and strengthen his special connection with nature, which built a strong foundation for our bond.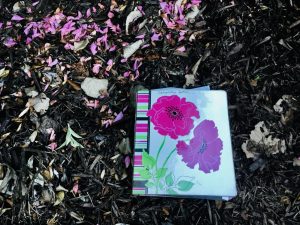 Sensing a depth in me similar to his own, we connected when I was young.
In elementary school, he took me on walks through the reservoir. 
Whether beneath bare trees or orange leaves, the fluctuating Connecticut seasons left us eager to see what each Sunday morning adventure would bring.  
As strong as the roots of the birches and oaks we passed, Grandma and Papa built our family on principles. 
Family first. Work hard. Be grateful and kind.
They ingrained these core values in all nine grandchildren as we sat around their formal dinner table and made toasts in which we all expressed appreciation for our tight-knit group. 
Sometime between Grandma's gooey brie before dinner and chocolaty squares of heaven after, Papa would pull me aside to chat. 
We would discuss life's complexity through intriguing topics like religion, family and people, and he would ask me thought-provoking questions. 
I cherished our deep conversations like a novel I could never put down, each talk becoming a new chapter in our own story.
But it was on our strolls through the reservoir that I recognized his ability to see beyond what the eyes can as he viewed nature as a symbol for life itself.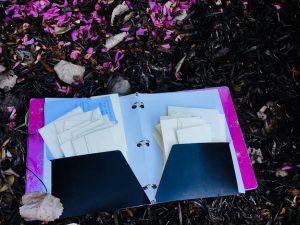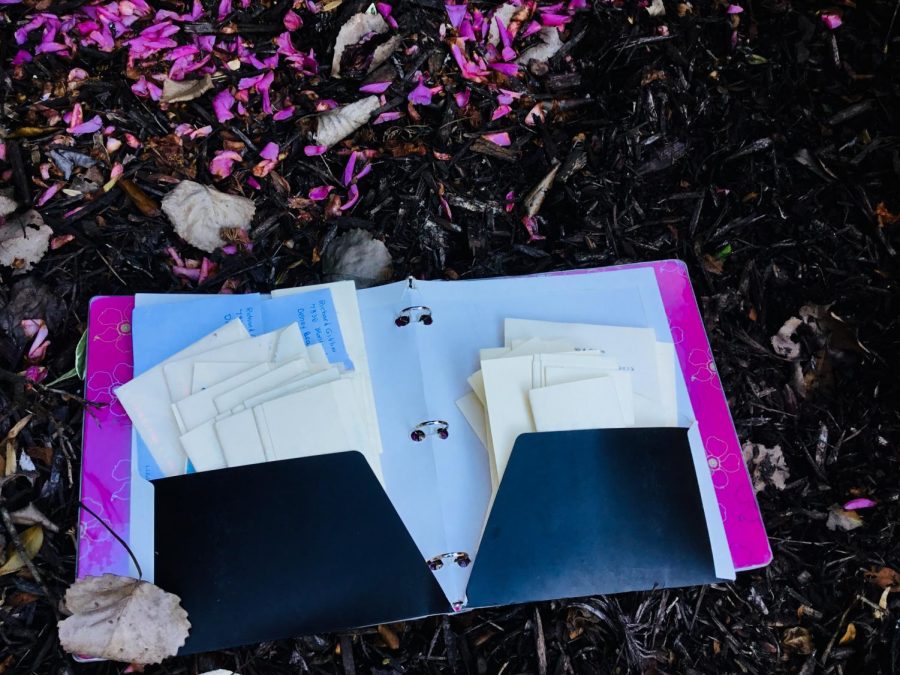 I remember watching him point out branches that looked like numbers or letters and together, we read nature. 
His presence beside me on the path, and the beauty of the woods around us, made me feel energized and strong against the wind.
But my strength withered and tears stained the couch pillow when my parents broke the news of our move to Charlotte, North Carolina.
I felt like by forcing us into this foreign Southern land they were cracking the ground beneath me.
The only country music I liked was Zac Brown Band, and I didn't own cowboy boots or drink sweet tea. 
Leaving my roots, I prepared for drought. 
However, Papa found a way to enlighten me from a distance.
He began to write me letters. 
Not emails or text messages. Handwritten letters. Gems. Mementos. Tokens.
Unwrapping his white envelopes like gifts that arrived by mail, I felt the depth and texture of his old-fashioned script flow through me. 
"The winds of distress may bend you but will not dislodge you if you are properly grounded."
With the arrival of every new letter, I felt my own roots growing stronger, more confident in this unfamiliar soil. 
Like Papa, I have always enjoyed writing and had my own thoughts I wanted to share. We wrote to each other in times of peaceful drift or when lost at sea.
Together, we built our story through letters.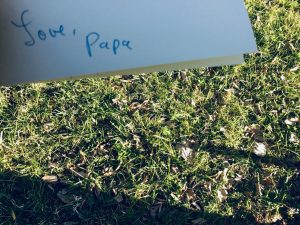 "Stop and see the trees on the other side of the reservoir rather than the bushes clearly seen alongside the path." 
Encouraged by his words, I began to seek journeys of discoveries, to understand, like Papa, how much there is to see in this world.
I pictured him overlooking drifting waves, his feet lightly brushed by the water, soaking up the physical sensations and sights provided by the earth. 
"Rather than placing my chair high up the sand to avoid the incoming tide, I will sit close to the water to experience the full beauty of the beach."
I would share more of our words, but they stay between us in private folders at home. 
Racing to the mailboxes on either ends of the East Coast, we hear each other's waves through the  folded contents of our envelopes: he in my scribbled print and I in his old-fashioned script.
Papa's letters remind me that of all the shells, he chose me to treasure and join him on his journey through the expansive sand. 
I may be his keepsake, but his letters will forever be mine.