New Kids on the Block
Usually the freshmen at almost any school reside at the bottom of the food chain, but this year, Charlotte Latin School's ninth grade has real strength in numbers. The size can be attributed to the fact that Latin has so many new kids on the block. These new freshmen come from varied backgrounds—public schools, other private schools, the greater Charlotte area and from many states in the country. They may be new to Latin, but students have acclimated quickly and already call themselves proud Hawks.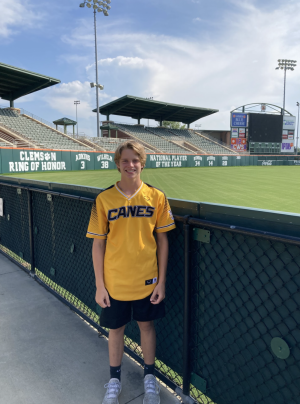 Tommy Beason joined Charlotte Latin from another Charlotte area school, Alexander Graham Middle School. Beason chose Latin because he recognized he would be challenged in his academic courses and also be encouraged to participate in the sports he loved. "Latin has a great balance of academics and athletics. It concerned me that I didn't know if sports would be played this year or not at other area schools. At Latin, they had a plan for it,  and it was comforting to know that my safety would be put first," Beason said.
He and his family felt that Latin's significantly smaller size and more engaged teachers would lead to a more successful school year. "Knowing that the classes were a third of the size, I realized that my teachers would not only have more time for me, but they would be willing to help me and want me to do well." Although Latin's hybrid schedule meant students in Upper School would be remote every other day, Beason felt confident that plans were in place to maintain the school's high standards. "I feel like the school has done the best they could to keep learning at an extremely high level and keep everyone safe," Beason said.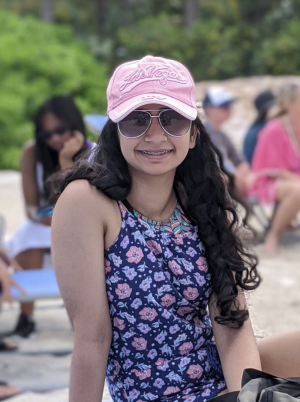 Hailing from Charlotte Preparatory School, Pari Hathiram decided to come to Charlotte Latin because Charlotte Preparatory School ended in eighth grade. During that school year, she and her family decided that she would attend Latin since they believed it would give her the best high school experience. Hathiram lived in Hong Kong for four years and India for seven years before coming to the United States. Interestingly, Hathiram said that the first few days at Latin were a little challenging, but her transition from her international travels was not. "The first few days of school were a little rough while we were getting used to everything, but since we have figured it out, it has been amazing!" Hathiram said. For Hathiram, there are pros and cons to the new schedule; she prefers to be on campus. "Remote learning is a little boring and without corona, it would have been more fun!" Hathiram said.
He's new to everything and not just Latin. New to the South, Latin and the Charlotte area, Benjamin Gathers joins the Hawk flock from Rockaway, New Jersey. He lived there his entire life before moving to Charlotte.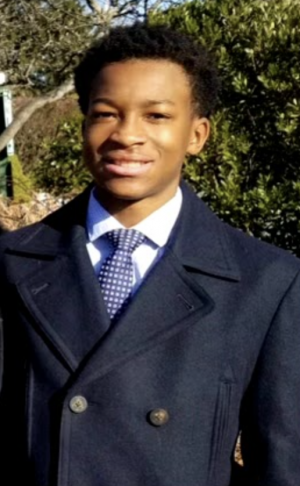 Gathers and his family had already decided that they were coming to Charlotte, and eventually he joined the Charlotte Latin family, too. "I thought that here I would get the education I needed to become successful. I also wanted a better lunch," Gathers said. Joining such a new environment in the middle of a pandemic was definitely a little unusual. Gathers said, "The environment of everyone wearing masks makes the experience feel much different." Gathers thinks the hybrid schedule allows for balance in his week. "I like online learning because the schedule is more relaxed and I have more time to sleep. I also like in-person learning for human interaction," Gathers said.  Gathers also plays soccer on the JV team at Latin, and he is excited to be able to have a season. He even scored a goal in their first game.
Robby Gette came to Latin this year from Charlotte Preparatory School, along with about 10 other students. Coming from another independent school in Charlotte, Gette was not thrown off by the location or new faces, but instead it was the sheer size of the school he found a little intimidating. There were around 36 students in his eighth grade class—about 20% of the ninth grade class at Charlotte Latin, which left Gette a bit overwhelmed. "After so much time with so few people, [Charlotte Latin] is a big transition," Gette said. In his not-so-humble opinion, however, Gette likes to think he's started to find his place in this school—with the help of his terrific classmates. "All the students here are wonderful, and the teachers are just as good," Gette said. The COVID transition was also a big change for Gette, but since the world had already been wearing masks for about six months, this change didn't affect him as much. Gette's situation isn't all that interesting, but he is excited to hear from his fellow freshmen about how the change has been for them.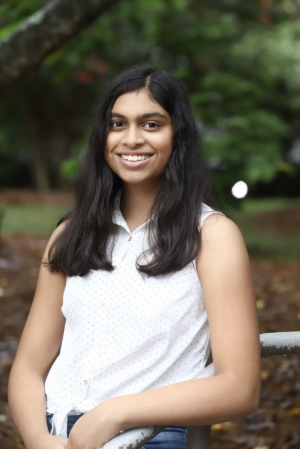 Neesa Phadke came from Discovery Middle School in North Dakota, which she attended for three years. Phadke said her school was a good size, although different from Charlotte Latin. "It was a Middle School, 300 people in my grade, and a medium sized campus, enough for everyone," Phadke said. Despite her middle school being significantly larger, less class options were made available. "There were music options, but since it was middle school, it had no electives," Phadke said.
Phadke is very happy with the size of Latin's classes. "The grade size is much smaller, the campus is much bigger, it has more choices, offers more freedom and it is a private school," Phadke said. Most freshmen have trouble integrating themselves in new schools, but Phadke hasn't had this trouble. "It hasn't been too difficult to adjust because I have met new people," Phadke said.
Phadke continued to praise the variety of classes offered. "I chose Charlotte Latin mainly because of the various clubs and activities," said Phadke. Phadke's ability to integrate herself was made more impressive since she didn't really know anyone here before she enrolled, but she had a good first impression from her tour guide last year. "I only knew Mayes [Fisher '23] because she toured me," Phadke said.
Phadke said she wants to play sports for Charlotte Latin, as well as join a collection of clubs. "I'd like to participate in debate, speech, congress, Model UN, backpacking for kids, introduce new kids to Latin, and be part of Girl Up," Phadke said. It's clear Phadke will be a valuable and visible presence on Latin's campus in the future.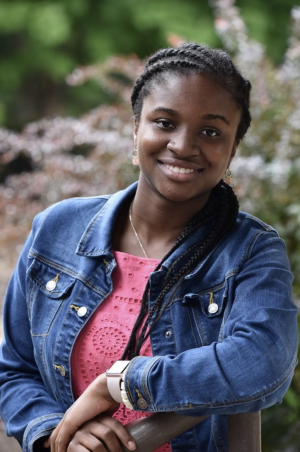 Kathryn Ogbata attended Weddington Christian Academy, a K-8 school, for seven years. Charlotte Latin was a huge step up in size. "There were only about 10 kids in my class at my old school, so I'm not used to having different people in class," Ogbata said.
Ogbata likes the combination of good academics with delicious food. "They have a great academic system and the food is really good," Ogbata said. Finally, she showed that she plans to fully embrace the new opportunities Charlotte Latin will provide. "I'd like to do track and field and I'm currently in Speech and Debate," Ogbata said.