The Day My Life Changed
Crack! 
Blood. Followed by screams, shock, terror. 
Frozen, drowning in the blood.
My eyes open. 
I see my dad and many other strange looking men I didn't recognize looking over me. 
Wait…I do know them. My coaches and the umpires that saw the baseball going more than 75 mph hit me. Right in the middle of my face.
What just happened? 
I stood up slowly and tried to think. 
I looked over at my mom sitting in the stands, her head in her hands. 
I knew it was bad, but not as bad as it would turn out to be.
Baseball: America's pastime. One of my favorite activities since I was a little kid. 
Playing countless hours, practicing with my dad, laughing with my teammates. 
This game has led me on a successful path in life, meeting many new people and building amazing relationships that later would prove crucial during my freak accident.
August 29, it's afternoon, and I'm playing the game I love. 
We are midway through, and I step into the batter's box, ready to get a hit and help my team win. I stare down the pitcher. At six feet tall, 200 pounds, and sporting a full beard, he's also at least three years older than I am, but we make eye contact and I try to intimidate him. He winds up and releases the ball. It races towards me and I freeze—too late, I think to myself, there is nothing I can do in this moment to protect myself. I hear a thunderous splintering sound as the ball smashes into my nose and I fall, blood gushing down my face. My eyes open, and I look up to see my dad and my coaches all around me with terror in their eyes.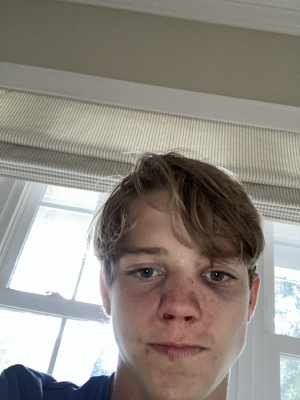 The bleeding eventually stopped enough for me to leave the bench, hustle back onto the field, get two hits and score two runs. At the time I didn't think much was wrong, except for maybe a minor broken nose. I finished the game, went to bed that night, and didn't think about my nose at all…until the next day when I hit the diamond again, stood in the outfield, waiting for a pop fly to head my way. Looking skyward, the sun blinded me, and I felt a sneeze coming on. Immediately, blood gushed from my nose and covered my jersey, pants, the brim of my hat—even my socks managed to become covered in blood. 
I finished the inning, ran into the dugout, a towel soaked in blood in one hand and an ice pack against my face in the other. 
No more sneezing, I thought, and I'll be okay. 
Nothing could have been more wrong.
The bleeding just wouldn't stop.
Warming up before my next game, the blood pumped out at an alarming rate. My parents took me to the ER, they stopped the bleeding, and we thought it was over.
It was just the beginning.
For the next five days, I had nose bleeds everyday. I saw an ENT (ear, nose and throat specialist) six times. I missed a week of school. I endured various procedures, and still my nose kept bleeding. From being unable to sleep without the risk of choking on my own blood to the pain and swelling throughout my entire face, I no longer felt like myself.
 One week after I broke my nose, I was admitted to Levine Children's Hospital. Two more painful (and unsuccessful) procedures later, it was time for a more invasive surgery. It was four more days before I was released from the hospital and could come home.
The people around me kept me going.
Family. Friends. Classmates. Teammates.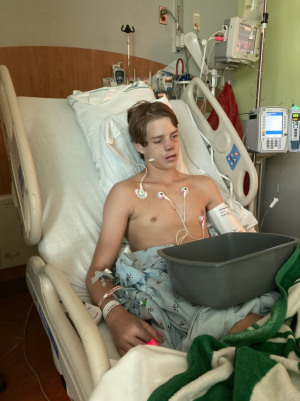 The relationships I have built throughout my life.
Waking up in the hospital to have my blood pressure checked or when another medication was put into my IV, one of my parents was always by my side. No other visitors were allowed because of COVID, not even my sister, Kendall. I was finally well enough to check my phone after a few days.
Hundreds of messages, many from people I had never even talked to before.
I made sure I responded to each and every one. I wanted them to know I cared about them, too.
After my surgery, sitting in my hospital bed, watching basketball with my dad while he fed me, I knew I was happy. 
I knew I never could have recovered so quickly without my family and my loved ones to support me. 
After that day I started to look and think about things differently. I started to go deeper than the surface and understand the meaning of people's actions and words.
I have always loved baseball. The people I met and the lessons I learned along the way have been invaluable, but what I learned from this experience is even greater. I'm not sure if I would ever have realized how important my friends and family are to me if that ball had connected with my bat instead of my nose. A hard way to learn such a valuable lesson, true, but in the end, it opened up a whole new world of thought that was truly needed. 
Although the pain was immense, I wouldn't trade that experience for any number of home runs.