Intergalactic Travel: Through the Pages
Written By Hailey Kim, Co-Chief Editor
March 26, 2021
Reading is a pastime that brings joy, relief, and excitement into many lives. Many Latin students enjoy reading as a pastime to relieve piled up stress caused by school or an escape from the monotonous life on Earth and immerse themselves into a completely different universe. Here are some students' opinions and journey to discovering their passion for reading. 
Questions:
So tell me your story
How did you first get into reading? 

Name at least 1 book that you recall sparked your interest in reading? Can be from any time in your life. 

What is your fondest memory, of someone for something, that you associate to reading? Is there someone who helped you get into reading?

What genre of books do you enjoy and why? What kinds of books do you not enjoy?

What is it about reading that brings you comfort and joy? Are there specific vibes, a location or book that rings you this comfort?

Tell me a time where reading or a book really made an impact and changed your view on something.(can be small)

Who's your fictional crush;)?
I first got into reading through story time in elementary school when our teacher read to us. Specifically, it was my second grade teacher, Mrs. Patterson and she read Mrs. Pigglewiggle and Despereaux, and it was those books that really sparked my interest in reading. The fondest memory I have of reading is simple: late night reading. Reading right before going to bed, when the house is silent and dark except for the light on my nightstand. It is very peaceful. I usually read fantasy or dystopian novels but I enjoy realistic, historical, romance, etc. However, I don't like nonfiction pieces or investigational books because I find them hard to follow and there is no room for imagination. I love slipping into an alternate universe because it gives me a creative outlet, or a release of stress from school and other works. I also use it as an award, a destressor after working hard on something. For me, it's not the location but rather the time. I love to read at night or early in the morning, I honestly have no idea why. A book that really left an impression on me was a Thousand Splendid Suns. It is about two women who were oppressed by social expectations in the Middle East. Both were wives to the same abusive husband and were attacked by the Taliban on a daily basis. Their story of mental resistance and love for their children is really inspiring. My book crush is probably Percy from the PJO series…
Riley Christhilf:
So I started reading really early in my life as soon as I could. Just really enjoyed all the books I had. A book I really enjoyed and kinda sparked my interest would be either the Harry Potter series or PJO series. My fondest memory of reading would probably be getting to read Harry Potter on the beach and reading with my friend Meredith. I generally enjoy fiction and any science fiction or fantasy novels but will generally read anything. Reading a book is a really good escape for me if I'm stressed out, although I haven't had much time lately. My fictional crush is Percy (obviously!).
Sydney Burke:
Reading has always been really important to my family, so I started to be very interested in reading when I was much younger. I've also always been interested in learning new things, and seeing new perspectives. To me, that's what reading is all about! The book One of Us Is Lying by Karen M. McManus helped to spur me into reading. I read this book the first time during my freshman year, and I've read it about three more times since. She is definitely one of my favorite authors, and her writing helped introduce me into mystery novels which have become one of my favorite genres. Another one of my favorites is Big Little Lies by Liane Moriarity also prompted me to start to read more higher level novels. It also helped me to not fear topics or writing styles that I hadn't encountered before which propelled me to experiment with new authors, novel and writing styles, and genres. I mostly enjoy reading fictional novels. I absolutely love mysteries, but I also love realistic and historical fiction because they both bring a new perspective while also being relatable. Some of my favorites from these genres include Turtles All the Way Down by John Green and Instant Karma by Marissa Meyer. On the other hand, my least favorite type of genre would be fantasy. I prefer to relate to the characters that I read, and sometimes it's harder for me to understand fantasy realms that are created. Reading helps me to leave my world for a few moments. It's a way for me to get out of my own head and take time to stop moving. Most of the time reading brings me a lot of relaxation and happiness which makes me want to always have a book ready! This might be a little vague, but I have enjoyed reading about different characters' perspectives and cultural traditions. These have definitely made an impact on my life as I have been able to gain a better understanding of more people who I might not interact with on a daily basis. Even though they are all characters, I still believe that many represent true personalities which show me new perspectives. The books The Hate You Give by Angie Thomas and Little Fires Everywhere by Celeste Ng have definitely made an impact on my life as I've been able to become more aware about the different ways people live their lives.
Jaya Iyer: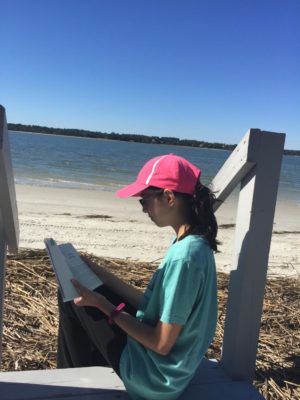 I started reading from the time I was two or three. My nanny taught me how to read. I also would look at small picture books when I was a baby. I don't know a specific book that started it, but I liked If You Give a Mouse a Cookie and the others in that series. I also liked the Corduroy books. I have memories of my nanny reading with me, and she used to help me write my own books when I was three or four or five. My favorite genres are realistic fiction, mystery, dystopia, and occasionally historical fiction, science fiction, and romance. I do not like it as much if a book is written in verse, and I will rarely read fantasy or nonfiction. I prefer books that I feel like I can relate to or could happen in real life. Reading always helps me relax, and it takes me to another world where I can become someone else and forget about all of my worries and stress. I like to read in my cozy chair in my room. Reading can help put me in someone else's shoes and better my understanding of different people's situations, whether it is their views or a conflict the character is facing.
Helen Hurden:
 I've been reading pretty much my whole life, and I've always loved it from the time I was very little. My parents used to read to me all the time when I was younger, and I think that's part of the reasons why I love to read so much. I remember reading Watership Down in seventh grade, and I had never read anything like it before. That was the book that really motivated me to start reading more classics like Oliver Twist. I'm not sure this has so much to do with reading as with writing, but I wrote a book in seventh grade with my best friend that was inspired by stuff that was going on with our friends, as well as the writing styles of some of our favorite authors. I really enjoy a combination of historical fiction and YA fiction with action and romance aspects. I really don't like sports books, except the book Unbroken. The thing I really love about reading is its ability to take you to different places and worlds. I always feel that a really good book makes you connect with the characters and regard them as friends, or sometimes enemies, and makes you feel like you are a part of the universe. One of my favorite books of all time is A Discovery of Witches, and this book makes me realize what qualities are truly important in a person. The characters in this book (and the two others that come after it) helped me understand what I really want in a friend or other relationships. 
Sophia Cartafalsa:
I remember the teacher reading books in the Lower School and I wanted to read books that I like on my own. Then when authors would come to the school, I would get excited and read their books. In second grade my teacher read Nest for Celeste and I loved the book so much and I started to read a lot, mostly comic books, after that. Whenever I read I think about my great uncle who was a big reader and would always tell me I was never alone if I had a book with me.
I enjoy the sci-fi genre the most, ones that include action or supernatural beings because I love superheros and anything that is action-packed. I do not like slow-paced heartfelt books. When one reads those books, you can go into another world and you can escape from the real world. Any book can help me "escape" from the real world. It can also bring insight of problems that I have been lucky not to experience in my life. I remember reading a biography about Malala and I felt like I was able to realize more about how I live in a bubble and how I am not exposed to the kind of inequality like Malala was. I don't have a fictional crush because my expectations would be too high for real people if I had one.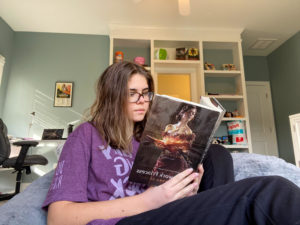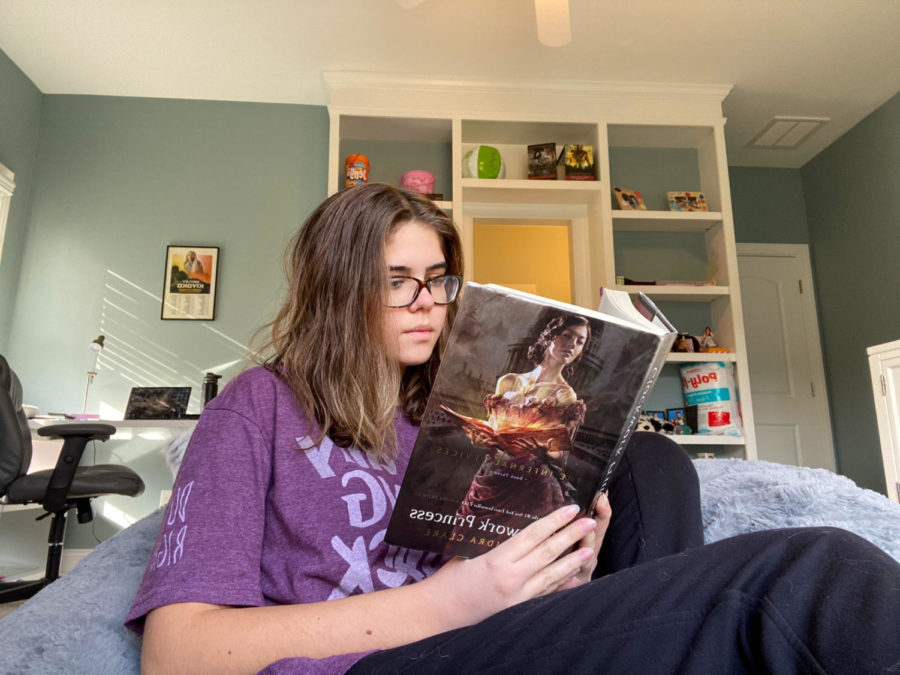 Mia Zottoli:
I've enjoyed reading for my whole life because my parents used to read to me all the time. However, I first became a regular reader around sixth grade, because I started finding books that I enjoyed, rather than just picking random books at the library and reading those. One time, my sixth grade humanities teacher had a little bookshelf in the back of the room, and that was where I first discovered the Shadowhunters series by Cassandra Clare. By now, I've read all of the books in the series and am still awaiting all of the new ones set to come out, but no one impacted me as much as Clockwork Princess. It was probably the first time I felt truly immersed in a story and became attached to the characters, which made me want to read more books that made me feel that way. Overall, I love reading a variety of books, so I don't have a specific genre that I stick to, but I always love reading historical fiction. The only books I generally don't enjoy are ones that lack diversity. The thing about reading that brings me comfort is that it provides an escape from the world. Whenever I'm feeling sad, anxious, or alone, I can pick up a book and be transported into another world where I'm not feeling any of those things. One time, While I was reading Zami by Audre Lorde and Felix Ever After by Kacen Callender, although I can't remember the exact specifics, there were lines that I could relate to so much that I had to set the book down and think for a moment. I have too many, haha, but the main ones are probably Will and Tessa from Clockwork Princess.