Senior Spirit
Friday…
Camo Pants…
It's Game Day Hawks.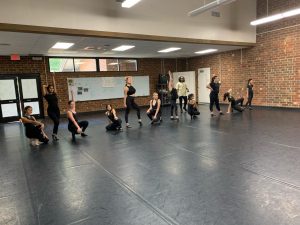 As a normal school year slowly creeps in, students feel the hype of game days slowly approaching. For almost twenty years, the iconic camo pants worn by Latin's very own dance team has become a sign of a spirited Friday night under the lights at Patten Stadium. As one of the twelve members on Latin's dance team, I wanted to better understand my six senior leaders' expectations for this upcoming season and reminisce about their past years as a CLS dancer. 
Ever wonder what it's like to be a captain of a dance team?  
My three, talented, senior captains, Grayce Sheinis '22, Kamryn Overcash '22, and Jennifer Kim '22 have spent their past years on this team working to become role models to the younger dancers on this team. 
After dancing for Latin for four years, Sheinis stated her most memorable moment was the day she was named team captain. "Since I was a freshman, I knew I wanted to have leadership on this team, and I was so excited when my hard work finally paid off," Sheinis said. Although Sheinis only began dancing six years ago, she became one of the most powerful dancers on the team and never gives up on perfecting her routines. 
Overcash not only leads this team but also spends her time as a Students For Students Leader, Honor Council member, Honor Council Advisory Board leader, and a Paws for the Cause leader, all while balancing five AP classes. She explains that her first dance as a freshman was most memorable to her. "It was my first time performing in front of my school since the Lower School talent show and our team was the biggest team we have had in awhile: 18 dancers. We had an amazing group of girls performing a dance by an outside choreographer who we absolutely love. Her dances are always enjoyable for us and the audience and she always picks amazing songs. That night, the team received a great amount of compliments from our routine that had blown expectations away. This was my first experience knowing that I would love being on and dancing for this team."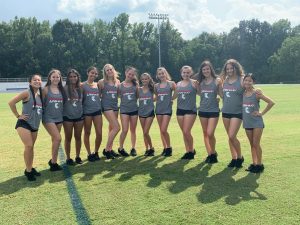 Lastly, our head captain is also known for her position on the Student Admissions Board and one of Latin's students for students leaders. After discussing the highs and lows of last year's pandemic, Kim states that this team was a major factor in keeping her spirits alive. "Dance team was a constant for me last year as it allowed me to feel a sense of normalcy among so many uncertainties. I am very excited to be back with the team this year under fewer restrictions. We have a lot more performance opportunities this year which makes me really happy as a senior."
Each one of our team's captains play a major role in the amazing dancers that come from this team. 
Each game day has its own unique aspect. Whether it's dancing with kids before touchdown tailgate or last minute practices at Patten Stadium, each senior can agree that every game day has its necessary traditions before the 7:00 p.m. game. 
"I love getting ready in the dance room before games with the team. Listening to hype music and the energetic atmosphere gets me excited to perform," says Molly Berger '22.  Over cash has a similar opinion. "Blasting our favorite music, telling stories, watching tv shows, doing each other's hair and make up, and laughing for hours are my favorite moments."
"One of my most favorite traditions is when we sing our "bring it on chant" that has been added onto for many years by past members of the dance team. Following this chant, we huddle up and go over corrections along with a little pep talk that gets us excited to dance," explains dance team SALT representative, Sarah Hinrichs '22. 
From chants and cheers to blasting music together, this team is a huge fan of the word 'bonding'. We do everything in our power to become the closest team possible. Our pre-game traditions play a major role in this, along with our pre-season bonding nights where we listen to music, eat dinner, and swim together at one of our teammates' houses. It is always a huge highlight in the entire team's season as it brings so many fun memories to each and every person.  
There are many aspects of this team that our seniors are thankful to have back as more opportunities are available this school year. "I'm so glad to have multiple football games this year as well as dancing at the homecoming football game," states Berger. Overcash further explains a day in the life of the dance team on homecoming game day. "Our homecoming game day is always the longest but most fun day of the year because of all the activities we get to participate in, including getting to entertain the school all together in the SAC." The dance and football teams performance in the SAC at the end of the day is enjoyed by so many. "The dance is both A relaxing and fun dance that is also super entertaining," explains Hinrichs. As I am only a sophomore, I did not get to experience being a part of the pep rally last year as a freshman, so Overcash gave me a quick rundown of the day. "We usually get to Latin around six in the morning to practice our dance with the football team and then excitedly wait for the pep rally." Although it's a long day, it is definitely a fun day. 
The overall atmosphere of our game days this year are also a major bonus to our seniors. With more people allowed together in one space, the crowd at games and the choreography of our dances have been muchbetter. Nikki Patel '22 describes how nice it is to have our student section back and better than ever. "It's always so nice to have a crowd that gets the adrenaline going," says Patel. Not only that, but we have even better and fresh dances for our crowds this year. "Last year we had to reuse some dances from two years ago and two dances from the captains but this year we were able to have choreographers come in," explains Sheinis. With this opportunity, our team got the chance to learn seven never before seen dances for our viewers at football games. This is very important to us as it shows our classmates the hard work we put into learning so many new types of dances. 
I know I speak for the entirety of my team when I say that we don't know what type of team we would be without the influence of all six of our seniors. This year has already been a huge success for this team and we cannot wait to see what else we accomplish.
If you see twelve girls walking around in camo pants…get yourself ready for a spirited night under the lights, Hawks.