Big Boys Drive Big Toys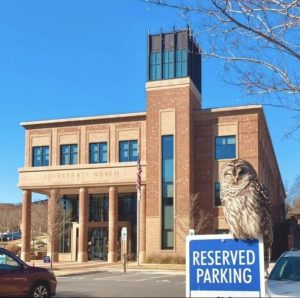 A hawk sits atop one of the reserved parking spots by the entrance to the Inlustrate Orbem building. Photo by Charlotte Latin School Marketing and Communications.
One of the many privileges that comes with getting older for teenagers is the ability to drive. The days of having your parents drive you around everywhere have ended, and with it comes a newfound freedom that allows you to go wherever you want, whenever you want. The adrenaline rush you get while cruising down the road with the windows down and the music turned up is unmatched and creates a feeling that is second to none. And while some may find it overwhelming and maybe even a bit frightening, many embrace the opportunity with open arms and pounce on it right out of the gates. Whether it be driving around town, coasting down the highway, or even taking the daily trip to Latin, the freedom that comes with driving is one that is truly life changing and opens the door to a whole new world of extraordinary opportunities. 
The junior lot, where all the eleventh graders park.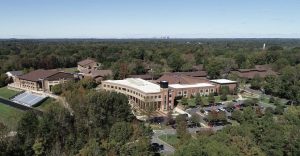 A quartet of this year's junior boys, Gabe Stein '23, Alex Roberts '23, Nelan Lala '23 and Gray Takacs '23, shared their thoughts regarding how their lives changed once they inherited the ability to drive by themselves, especially in regard to the independence that it gives them. When asked about his favorite part of driving, Stein adamantly stated the freedom that comes with it ranks the highest. "I love the freedom I can find behind the wheel. It is wonderful to be able to go anywhere I want, whenever I want. The moment you have your own car is the moment the world truly becomes your oyster," Stein said. Stein also noted that driving allows him to clear his mind and ponder over whatever he so chooses. "It is calming to be able to zip along the open road or rushing freeway and think about whatever you want," Stein said. Furthermore, Takacs added that he likes to take his newfound freedom all around Charlotte. "Outside of school, I like to drive to my job at Carowinds and some restaurants as well," Takacs said. "Going to all of these places has just become like second nature to me."
However, like most great things, there is often a learning curve that everyone must go through in order to get what it is that they want. Lala said
that, for him, it was when he first got his license. "It took me a full week before I became comfortable being behind the wheel," Lala said. "Learning to drive was hard because it was something completely new." And even today, Roberts said that there are still elements of driving that are difficult for him. "Paying attention to the road and also not speeding are the hardest parts," Roberts said. However, he also noted how he makes it easier on himself. "I listen to music and just don't worry about hitting other people." 
A bird's eye view of Charlotte Latin's campus headlined by the infamous senior lot, where all seniors park. Photo by Charlotte Latin School Marketing and Communications.
There are a lot more responsibilities to take on the older you get, and the pressure increases each and year. However, growing up has many benefits, just like the freedom you get from being behind the wheel. It can feel weird to be on your own more and more, but when you take a step back and look at the bigger picture, the positives outweigh the negatives. Growing up might not be easy, but it's the privileges like driving and the freedoms that come along with them that keep us going each and every day.