2022 NFL Draft: QB Preview
The Quarterback position is undoubtedly the most important position on the football field. Therefore, it only makes sense that teams put a premium on them during the draft. Since 1998 when Peyton Manning was drafted, a quarterback has been one of the top three picks every year (except for two). However, that is unlikely to happen this year as the upcoming quarterback class is one of the weakest in recent memory. And it doesn't help that this class comes after last year's class with Trevor Lawrence, Justin Fields, and Mac Jones and before next year's class with Bryce Young, C.J. Stroud, and Anthony Richardson. But despite the weakness of this upcoming class, there are certainly a few players who will get first round buzz and could possibly become quality starters at the next level. 
The first prospect of this year's quarterback class is senior Kenny Pickett. A three star recruit coming out of Ocean Township High School, Pickett committed to Pittsburgh in the summer before his senior year. After redshirting his freshman year in 2017, Pickett became the starter but didn't do much. However, after a stellar senior season in which he threw for 42 touchdowns and only seven interceptions, Pickett established himself as the top quarterback prospect of this year's quarterback class. Behind the stellar play of Pickett, Pittsburgh climbed all the way up to number 15 in the AP Top 25 Poll and won their first ever ACC Championship. With this success, Pickett won ACC Player of the Year and led Pittsburgh to the Chick-fil-A Peach Bowl. However, he turned down the opportunity to play in order to prepare for the draft. 
The biggest knock on Pickett is his hand size. If Pickett got drafted right now, his hands would be the smallest in the NFL. And barring any unexpected hand growth, the same will be true come draft night. However, his hand size wasn't a problem in college so many teams don't think it will be one in the NFL.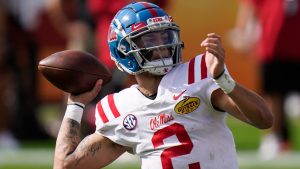 The team Pickett has been most linked to is the Pittsburgh Steelers, and this doesn't come as much of a surprise. Pickett spent his entire college career in the Steel City, and wouldn't have to go anywhere if drafted there. In addition, the Steelers are currently in the quarterback market after losing Ben Roethlisberger to retirement. They signed former Chicago Bear and Buffalo Bill Mitchell Trubisky, but he is likely to just be a stopgap option. Therefore, it would only make sense for the Steelers to draft Pickett.
The second prospect of this year's quarterback class is senior Malik Willis. Similar to Pickett, Willis was a three star recruit coming out of high school. During his senior season at Roswell High School, Willis committed to Virginia Tech. However, after receiving an offer from Auburn, he decommitted from Virginia Tech and announced his commitment to Auburn. But after two years at Auburn, Willis transferred to Liberty. In two seasons at Liberty, he threw for 47 touchdowns and 18 interceptions. He also ran for 1,822 yards and added 27 touchdowns on the ground. At the end of his senior season, Willis took the Flames to the LendingTree Bowl in which Willis won MVP en route to leading the Flames to a 36 point victory over Eastern Michigan. 
Willis' biggest criticism is his accuracy, which is in part due to his unconventional throwing mechanics. He also lacks touch, especially on deep balls. And since he is constantly scrambling as a dual threat quarterback, his accuracy suffers when he is on the run. Nonetheless, his unique play style mimics that of many elite dual threat quarterbacks in the NFL including Deshaun Watson and Lamar Jackson.  
When it comes to the draft, Willis has been most closely associated with the Carolina Panthers. The Panthers are currently in the market for a quarterback after missing out on Deshaun Watson, and Willis wouldn't be a bad consolation prize considering the two have similar play styles. But what makes this fit so intriguing is because of Cam Newton. If the Panthers were to bring him back, Willis would have the opportunity to learn behind a veteran quarterback who has an identical playstyle as him. Newton also went to Auburn like Willis, which makes this fit even more enticing. Even though Newton isn't the same player he once was, he has a lot of insight and advice he could offer Willis.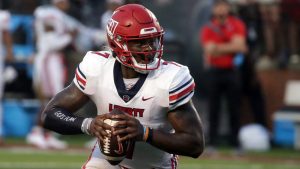 The third and final prospect of this year's quarterback class is junior Matt Corral. A four star recruit coming out of Long Beach Poly, Corral had a rollercoaster ride of a recruitment process. In the early part of 2016, Corral committed to The University of Southern California. However, in the summer of 2017, he decommitted from USC and committed to The University of Florida. Then six months later, Corral decommitted from Florida and committed to Ole Miss which would end up being his official commitment. After redshirting his freshman year in 2018, Corral became the starter and threw for 55 touchdowns in three years in addition to the 16 he added on the ground. In 2021, he led Ole Miss to the Sugar Bowl. However, he suffered a leg injury during the first quarter and was forced to leave the game. Without Corral, Ole Miss suffered a 14 point loss to the Baylor Bears. Fortunately, his injury was only a sprained ankle, so his draft stock isn't likely to be affected.
The biggest concern about Corral is his health. In addition to the ankle sprain he suffered during the Sugar Bowl, he also got hurt against Auburn earlier in the season. These injuries are due to his playstyle, as he does not shy away from contact. However, his injury concerns are only as big as teams make them. 
In regards to the draft, Corral has been most linked to the New Orleans Saints. Outside of Jameis Winston, the Saints don't have any competent quarterbacks. The team lost Trevor Simean to the Bears in free agency, and gave up on the Taysom Hill quarterback experiment. Without those two, the only quarterback other than Winston is Ian Book, who was a disaster in 2021. In limited action, he threw for zero touchdowns and two interceptions which led to him post a QBR just over two. Therefore, in New Orleans, Corral would be able to learn behind Winston and comfortably adjust to the NFL. 
Once again, this quarterback class is not going to blow anyone away. None of these quarterbacks won a Heisman, and none won a National Championship either. However, this doesn't mean that this class should be disregarded, as there is a good crop of talent that could come out of it. But until draft night, we'll just have to wait and see.