Taylor Swift's New Album: "Midnights"
October 21, 2022 marks a day that Taylor Swift fans have been anxiously waiting for for months: the release of her new album. Swift announced the date at the Video Music Awards (VMAs) on August 28, 2022, during her acceptance speech for Video of the Year for her ten-minute short film, "All Too Well. "I had made up my mind that if you were gonna be this generous, and give us this…it might be fun to tell you that my brand new album comes out on October 21," Swift said as she thanked her fans. At midnight, she revealed the title, number of tracks and cover art. Here's everything we know about the album. Here is everything we know about it!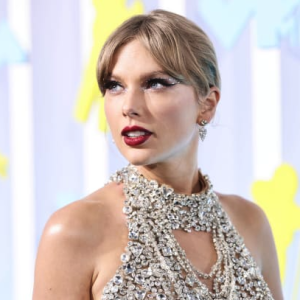 Fifty-three midnights will have passed since she announced the album and knowing Swift, there is a symbolic reason behind all of the details. As all Swifties know, her lucky number is 13—and what is 10 + 2 + 1 (October 21)? Thirteen indeed…The album also includes thirteen tracks plus three bonus tracks. Based on her description of the album, they will be quite emotional tracks. On her Instagram account she described the album in her usual poetic fashion: "'We lie awake in love and fear, in turmoil and in tears. We twist in our self-made cages and pray.'"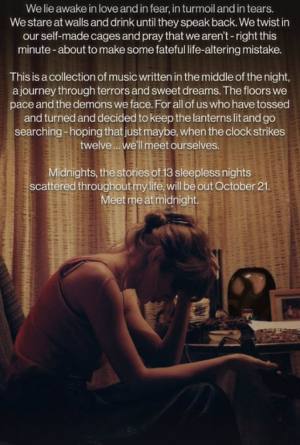 Swift's dark and emotional tone continued as she shared she spent many late nights drafting this latest album; this support also provided a full-circle for the album's symbolic title. "This album represents thirteen sleepless nights scattered throughout my life," Swift said.
Swift has not announced  any release dates for singles but knowing Swift, she will surprise the world with her first one soon. Not only is "Midnights" Swift's first album since 2020 that is not a re-recording but also it has the potential to break many records. If "Midnights" reaches # 1 on the Billboard 200 Chart, she would tie Barbara Streisand for most No. 1 albums sold by a female artist (both would tie for 3rd behind Bruce Springsteen and Drake). Since the chart originated in 1956, only The Beatles and Jay-Z have surpassed more than fourteen No. 1 albums. 
Swift has become infamous for dropping clues and "Easter eggs" for her fans about her upcoming albums, so naturally, after this announcement, Swifties went to work on uncovering possible hidden clues. Swift announced "Midnights" at the VMA awards, where thirteen years ago, Kanye West infamously interrupted her Best Female Video (for music video "You Belong With Me" ) award acceptance speech. The dress she wore to the VMA's in 2022 also resembled the dress she wore in the  "Look What You Made Me Do" music video from 2017, a track she penned about West. She also released a collection of her existing songs called  "The Sleepless Nights Chapter" in 2020, which may correspond to "Midnights." Swift appeared to drop some pretty clear hints (if you were looking carefully) that "Midnights" was coming years ago, just like a recent Billboard interview.  "Can I hint at something three years in advance? Can I even plan things out that far? I think I'm gonna try to do it," Swift said. Looking back, she supported a very strong likelihood that "Midnights" had been in the works all along. As all loyal Swifties know, playing along is half the fun even though the anticipation of a new album can be equally exciting and frustrating. Mark your calendars, everyone! "Midnights" is coming!