These Cookies Don't Crumble: Crumbl Cookies Bake Their Way to Success Using Social Media
Whether you have seen them on social media, indulged in the sweet treat or waited for them to announce their weekly flavors, there's no doubt that you have most likely heard of Crumbl Cookies. This new cookie shop just recently blew up on Tik Tok and has locations all across the United States, including Charlotte, North Carolina. "Ballantyne Magazine" even covered the first store's opening in November of 2020.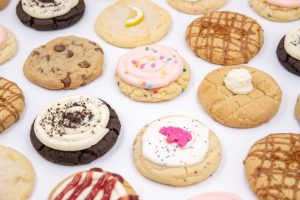 However, before the company experienced a wave of success, they sold cookies through a small shop in Utah. According to Jonathan Maze who is a reporter for The Restaurant Business, a site for articles that frame their work around food trends and restaurants, Crumbl became one of the country's fastest-growing restaurant chains in just five years. Maze said "sales are up nearly 500% since 2019." 
 In 2017 Crumbl started small with a small store in Logan, Utah where they only sold milk chocolate cookies for curbside pickup. Jason McGowan and Sawyer Hemsley, the two cousins responsible for starting Crumbl, tried hundreds of recipes and consulted with a handful of people until they felt that they had reached their goal of making the best chocolate chip cookie in the world. The Crumbl Cookies About Page provides tremendous insight behind the journeys that the brothers went through, as well as the sacrifices they made for their dreams. McGowan and Hemsley described how they worked tirelessly in their quest to share what they believed to be the best cookie in the world. "After thousands of dollars in wasted dough, recipes that did not live up to their expectations, and cookies that are just plain embarrassing to them today, the two cousins decided to take their 'perfect cookie quest' to the people."
It is easy to notice Crumbl Cookies' success over the past two years. The franchise went from a few loyal customers picking up sweet chocolate chip cookies in a small shop in Utah to expanding throughout the country. Crumbl has taken full advantage of their spiked popularity, selling everything they can put their logo on. If you visit the website and go to the merchandise section, you will find their own personalized cookie cutter, customized belts and socks, baby clothes, water bottles and so much more. There are now 300 stores opened throughout 36 states nationwide and a menu that changes every week, providing new fresh and unique flavors to the community around them. Even throughout the drastic changes this company has seen in the past years, one thing stays the same: the delicious chocolate chip cookies that almost seem to take you back to the hundreds of tweaked recipes and a small family, just trying to make it work in a small shop in Utah.