All Rise: Inside Aaron Judge's Historic 2022 Season
The year is 1961, and New York Yankees outfielder Roger Maris is set to step up to the plate in the final game of the season. As he makes the short walk up to the batter's box, the entire crowd is on their feet cheering him on. Why? Because if Maris were to hit a home run, he would pass Babe Ruth and become the new American League home run king. And, low and behold, he does. Finishing the season at 61 home runs, no one even dares to think about if someone could ever break that record. 
Enter Aaron Judge. The 30-year-old burst onto the scene with the Yankees in 2017 as a then 25-year-old and mashed 52 home runs, a rookie record at the time. Over the next three seasons, however, Judge never came close to matching his 2017 production because he struggled mightily with injuries. According to ESPN, Judge only played in 242 of a possible 384 games from 2018-2020 and hit only 63 home runs in three seasons. But in 2021, Judge came back and looked more like his 2017 self, hitting 39 home runs in 148 games. This obviously wasn't great by his standards, but it was certainly better than his last three seasons. 
Before the start of the 2022 season, Judge made a risky decision and turned down a lucrative contract extension worth $230 million dollars and instead decided to bet on himself. There was little hope that this decision would turn out to be the right one considering Judge's production the past four years. But he knew himself better than anyone else did. Judge played in all but five games during the 2022 season and broke the long-standing American League home run record with 62 long balls en route to taking home AL MVP honors. But his home run total just scratches the surface of how impressive of a season Aaron Judge put together. Here are three stats that defined Judge's record breaking season as well as a preview of his impending free agency.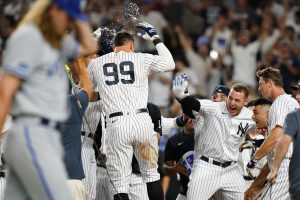 The first statistic worth reviewing is WAR, or "wins above replacement"; this stat measures how above or below average an MLB player's performance is. The goal for most players is to have a positive WAR, as the league average is usually just around 2. Any time someone's WAR approaches 5, we are most likely talking about one of the top players in the league. But Aaron Judge took this a step further. According to Baseball Reference, Judge posted a WAR of 10.6, which was the highest WAR in a single season since 2018, when Mookie Betts had a 10.9 WAR during his MVP Season. So statistically, Aaron Judge was more than 5 times better than the average player.
The next statistic to analyze is the batting average, which is simply the percentage of time a player gets a hit. For example, someone batting .250 is getting a hit 25% of the time. Typically, the league batting average is somewhere around that number with most players getting a hit around a fourth of the time. However, Aaron Judge finished top 5 in the league in batting average as, according to Fox Sports, he posted an average of .311. But what makes this so incredible is because of the type of player Judge is. Judge is a power hitter, and a common trend with power hitters is a low batting average because they typically do two things: hit a home run or strike out. For example, Kyle Schwarber was second in the league in home runs with 46 but posted a dismal batting average of .218. Judge, however, is different because he tacks on singles, doubles, and triples in addition to home runs.
The third (and final) statistic is walks–when someone takes 4 balls, they are awarded a walk to first base, hence the name "walk." When it comes to power hitters, you rarely see someone with a lot of walks since they are usually very aggressive and swing at most pitches with the hope of taking one deep. Yes, Aaron Judge hit 62 home runs. But according to CBS, he was second in the league in walks with 111, highlighting his patience at the plate.
So where does this leave Aaron Judge for free agency? As of right now, the Yankees are the clear favorites to sign him to an extension, as Judge has built a strong reputation within the organization. Judge and the Yankees have also continually expressed an interest in staying together. However, experts have speculated that he could leave to go to one of three other teams: the Giants, the Mets, or the Dodgers. The Giants are an intriguing team, as Judge grew up in California just an hour away from San Francisco. But the Giants have a lot of questions surrounding their mediocre roster that just finished with an 81-81 record which could most certainly divert Judge away from the Bay Area. The Mets are a candidate simply due to the fact that they're a big market team, and it would be hard to imagine Judge leaving the Yankees for his crosstown rivals. The Dodgers are an obvious candidate, as they are a big market team who loves throwing money at high profile free agents. However, even considering these three teams, it just doesn't seem plausible that Judge would leave the only team he's ever known in the New York Yankees. Expect the Bronx Bombers to give Judge an offer close to that of the one Fernando Tatis, Mike Trout, Bryce Harper, and Manny Machado all received, one that will pay the 30 year old slugger close to 400 million dollars when all is said and done.