The Mystery of Marilyn Monroe's Orange Dress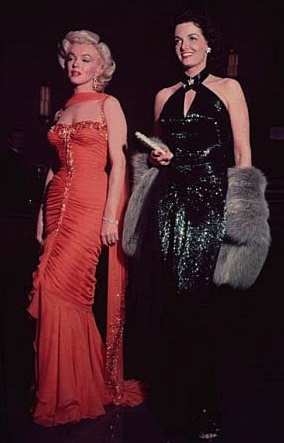 Anyone who has seen "Gentlemen Prefer Blondes" knows that it is easily one of Marilyn Monroe's best films. They also know that her wardrobe in this film is nothing short of impeccable: It includes an eye-catching leopard print coat dress, a stunning red sequined gown, an adorable wedding dress with Grace Kelly-like lace sleeves and of course, the forever iconic hot pink dress from "Diamonds Are a Girl's Best Friend." But one of the less popular dresses, a vibrant orange evening gown, disappeared after production for "Gentlemen Prefer Blondes" wrapped. The gown, designed by William Travilla, an American costume designer in the golden age of Hollywood, famously designed "some of the most iconic dresses in cinematic history." Many of these dresses, such as the white chiffon one from "The Seven Year Itch" in 1957, are on display at special exhibits or are owned by private buyers. But this orange evening gown is nowhere to be found in the 21st century. Where could it possibly be?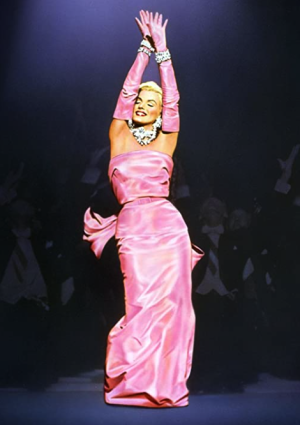 After Marilyn wore the dress for "Gentlemen Prefer Blondes," it is likely that the gown was studio-owned so it went back into the hands of 20th Century Fox. It is most likely that the dress was studio-owned because it made a second appearance in a film called "The Girl Can't Help It," which was also produced by 20th Century Fox. In its second film, however, there was no blonde bombshell starlet who wore the dress; instead it was an up-and-coming actress of color named Abbey Lincoln. Not only did she wear the already-iconic gown in the movie, but she sported it on the cover of the June 1957 issue of "Ebony" magazine. According to Matthew Eng, this issue of the magazine included a full paragraph which "divulged" into Lincoln's  measurements. This absolutely infuriated Marilyn's fans because they felt that Lincoln wearing the dress Lincoln's wearing of the dress distracted from Marilyn's iconic association with the gown.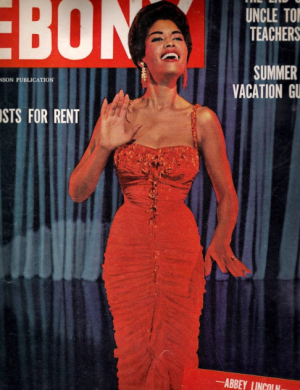 In an interview in 1993, Lincoln expressed that she felt differently about the dress than Marilyn's fans did, and was quick to acknowledge the overly-sexualized image that was associated with the gown and women such as her and Marilyn. She saw the dress as an exploitation of her body rather than a symbol of arguably the biggest movie star of all time. Lincoln decided that she couldn't handle the backlash she was receiving from the dress and did something to ensure that she would never have to wear it again. In an attempt to "escape" the societal objectifications, Lincoln indifferently admitted to the press that shortly after the film, she burned the dress in an incinerator to ensure she would never wear it again. Lincoln goes on further to say that the gown had the power to ruin her career and even her life. She deemed the dress to be more important than she was and feared the public would see her as nothing more than a sex symbol.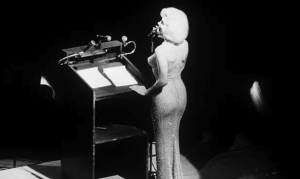 Today, you obviously can't go and see the orange Travilla dress in person somewhere like you can with Marilyn's other dresses, like the "Happy Birthday Mr. President" dress. Despite being such an iconic dress in "Gentlemen Prefer Blondes," most people don't know that the dress doesn't even exist anymore. Perhaps the dress's whereabouts are still a "mystery" because people just don't pay as much attention to it as they might for other Old Hollywood outfits. Because the dress wasn't around for nearly as long as some of Marilyn's other gowns, its impact on popular culture was not as significant. Its short lifetime limited it to being nothing more than a symbol of sexual exploitation.