Final Four 2023 Predictions
Final Four Predictions
     Upsets have been the norm this March, and all those upsets have left us with a (surprising) Final Four of UConn, San Diego State, FAU and Miami. Only UConn has been to a Final Four before, but they haven't gotten there since 2012. For the first time since seeding started in 1979, there are no #1, #2, or #3 seeds in the Final Four. This article covers both Final Four games and gives predictions for both. Will the winner be the dominant UConn Huskies? The explosive FAU Owls? The lockdown San Diego State Aztecs? Or the high powered Miami Hurricanes? 
UConn vs. Miami:
     The dominant UConn Huskies roll into the Final Four winning each of their games in the tournament by 20 or more points, but face a tough challenge against the Miami Hurricanes who just took down the #1 and #2 seeds from the Midwest region. If Miami was playing any other team in the Final Four, they would be the definite favorite, but UConn has been playing so well in March Madness that Vegas has the spread of the game with UConn at -5.5, despite the matchup being just a 4 seed vs 5, a one seed difference. For comparison, the line for FAU vs San Diego State, a 5 seed vs a 8 seed, is -2 in favor of San Diego State. This speaks volumes to the complete and utter dominance of the Huskies, and how unbeatable they've looked. For another comparison, Indiana, a 4 seed, was only favored by 4 points against Kent State, a 13 seed. One reason for UConn's dominance has been Adam Sanogo, the 6'9" junior from Mali. So far in the tournament, he's averaged 20 points, and 9.8 rebounds per game and has been shooting very efficiently from the floor. UConn's height has really helped them in the tournament so far, grabbing 45 more rebounds than their opponents through the first 4 games of the tournament. UConn should control the boards in this matchup, as they rank 2nd in rebounding percentage, while Miami ranks just 66th. The Hurricanes are led by junior guard Isaiah Wong, the ACC player of the year, who's averaging 16.2 points per game while shooting 38.1% from 3. Miami also has 4 players scoring at a high clip, with Wong, Jordan Miller, Nijel Pack, and Norchad Omier all scoring over 13 points per game. Miami has survived on their shooting and offense up to this point, but they shoot only a little bit better from 3 than UConn and have a lower True Shooting Percentage. The Huskies are much better defenders than the Hurricanes, and have a higher offensive rating, although both teams offensive ratings are in the top 10 of all DI college basketball teams. Miami does play at a faster pace than UConn, so if the teams get in a shootout Miami will have the edge. Miami also forces steals at a much higher rate, which should help them keep it close, despite UConn's defense being better overall. Miami also will probably grab more steals than normal, as UConn turns the ball over a good amount, their one glaring weakness. UConn does make up for their lack of steals with this prowess for blocking shots though, while Miami really struggles to get blocks. Overall, UConn has the edge in many more categories than Miami, and while it's not unfathomable for Miami to pull off the upset, UConn should grab the win in this one and keep on rolling into the championship game.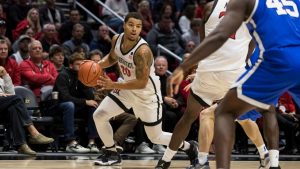 San Diego State vs. FAU:
     Defense meets offense in a surprising final four clash. Neither Florida Atlantic nor San Diego State have been to the Final Four before, and it is the first time FAU has been in the tournament. The Florida Atlantic Owls have one of the top offenses in DI college basketball, averaging 78.8 points per game, good for the 27th highest out of 358 schools. Meanwhile the San Diego State Aztecs allow just 63.1 points per game, good for 23rd in college basketball. Through their last 3 games, the Aztecs have been even sharper, allowing just 57.3 points a game. This will be one of FAU's toughest defensive tests yet, their other tough test coming against the 4th ranked Tennessee Volunteers defense, in a game where FAU scored just 62 points. San Diego State on the other hand has played plenty of teams with offensive firepower this March, holding the Alabama Offense that ranks 7th best to 64 points, and the 12th best offense, Furman, to just 52. In fact, all of the Aztecs' matchups in March Madness have been top 25 offenses besides their elite eight game against Creighton. If FAU can't get their offense going they could be in trouble, as San Diego State has won every game this year in which they hold the opposing team to under 65 points. The Aztecs are led by Matt Bradley. The senior is averaging 12.5 points per game for the Aztecs, the highest on the team. FAU will have plenty of chances to keep themselves in the game though , as San Diego State doesn't often win games by a very large margin, due to their mediocre offense, and only one person on the Aztecs, Matt Bradley, averages over 10 points per game. FAU should get a boost from their rebounding, as they rank 15th in rebound percentage, well above the Aztecs' 29th ranking. San Diego State is a more battle tested team, which should prepare them for this tough, high emotion game. The Aztecs rank 6th in strength in schedule, a much harder schedule than the Owl's 77th ranked schedule. FAU needs to get their star, Johnell Davis involved early and often. Davis has been dominating in March Madness, averaging 17.3 points and 7.8 rebounds through the first four rounds.  If FAU can push the pace and make San Diego State play fast paced basketball they have a very good chance of winning the game, but if the Aztecs are able to make it a slow, grinding, defensive game they will have the edge and likely grab their ticket to the championship. Ultimately, it's a lot easier to slow down a team than speed them up, and the battle tested Aztecs should come out on top against the explosive FAU Owls.
     Both of these games should be great, and you can't help but root a little for everyone. From upsets, to great storylines, this March has been incredible, and the greatness should continue into the Final Four. One thing is for sure though, whichever teams win these matchups, the National Championship will certainly be a very exciting game.