Selena Gomez, Hailey Bieber, and Alleged Feuds
     The marriage of the successful model Hailey Baldwin and famous singer Justin Bieber in 2018 resulted in loads of backlash from fans. The retaliation against their relationship stems primarily from the hard feelings involved with the separation of Justin Bieber and his ex, Selena Gomez. Recently, supposed tensions between Gomez and Bieber have made headlines on numerous social media platforms, especially Tik Tok. Despite all the publicity, the Biebers have been going strong for nearly five years. If neither Bieber nor Gomez has contacted each other, why are tensions resurfacing now? Are they actually fighting, or does their situation have potential for exciting drama that fans are exploiting?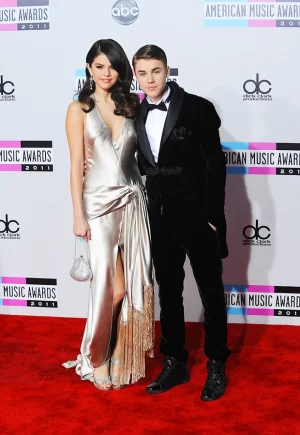 The answer is not so simple. Gomez's history with Justin goes all the way back to their teenage years. As you can imagine, fans were not so welcoming when Hailey Bieber seemed to threaten the iconic power couple of the 2010's. The media followed Selena Gomez and Justin Bieber's relationship for years, obsessing over their young love. The second their relationship started to get rocky, fans were quick to accuse Hailey of "stealing" Justin from Gomez and for being a homewrecker. Although the timeline is confusing, this is not the case. Gomez and Justin Bieber were on and off for eight years, finally ending when Justin decided to commit to Hailey, resulting in their marriage four months later. Hailey confirms that she was never involved with Justin when he was in a relationship with someone else. 
     The recent spark of controversy between Hailey Bieber and Selena Gomez was the eyebrow situation. On February 22, 2023, Gomez posted a TikTok jokingly admitting that she accidentally over-laminated her eyebrows. Just hours later on the same day, Hailey Bieber posted a picture of her and Kylie Jenner on FaceTime, in which they show a close up of their eyebrows. Fans, aware of their dispute, immediately assumed Bieber and Jenner were making fun of her. While this may be one of the many illogical accusations from fans, this instance seems to have some weight to it, considering the words "This was an accident?" was typed in small font on Jenner's eyebrow, and the post was taken down shortly after. 
     As more rumors began to spread all over TikTok, the obsession heightened, and soon people all over the country were posting "evidence" of  Hailey Bieber trying to be Gomez by taking things out of context and misinterpreting small interactions between them online. Such evidence includes anything remotely linking the two of them, the most common being their seemingly identical tattoos and the supposed copying of Gomez's cooking show. By inspecting paparazzi photos close enough, many fans have noticed that both stars have a lowercase "g" under their left ear. Gomez explained to the media that her tattoo was dedicated to her younger sister Gracie. Hailey Bieber's, however, was for a completely different reason—to promote the Georgia tattoos. Additionally, the accusation that Bieber copied Gomez by starting her own cooking show is a bit of a stretch. It may seem like a big deal when deep-diving for proof of jealousy, but the reality is that celebrities starting their own cooking show is very common and should not link the two of them. 
     Due to the extensive media coverage, people all over the world who aren't even huge fans of either celebrities, feel as though they need to pick a side. When it comes down to it, almost everyone is on the same one—Selena Gomez's. Gomez is a fan favorite because of her upbringing. She was an integral role model for teens all over the world and starred in our favorite shows, "Princess Protection Program" and "Wizards of Waverly Place," as well as produced some of our favorite songs such as "Come and Get It" and "Love You Like A Love Song." Many fans growing up with Gomez have followed her personal life almost as closely as her relationship status. In Gomez's new documentary "My Mind and Me," she shares an extremely vulnerable side of herself with the rest of the world describing her in depth experience of severe depression, bipolar disorder, and Lupus. The love, sympathy, and pity for Gomez not only helped her case in this imaginary feud, but also crushed her opponent. The predominant hard feelings against Hailey for simply being Justin's wife led to fans reaching far-fetched conclusions, going so far as to denounce her as a person and criticize her marriage. 
     The reality of Hailey Bieber and Selena's situation is one of discomfort. Although these celebrities have not been on bad terms with one another, they were never really friends. The awkwardness between them has been overanalyzed by obsessed fans and turned into something far bigger and dramatic than it really is. While Bieber and Gomez may not have spoken to each other publicly, Bieber has expressed her sadness and confusion during interviews, asking her fans, "If we have moved on, why can't you?" The truth is, after a few rumors and videos began to spread, people saw their "feud" as juicy drama that they had to have an opinion on. As siding with Selena Gomez became a trend and it was looked down upon to support Bieber, everyone wanted to follow along, making it clear that they supported Gomez, not a "jealous mean girl". Eventually, the backlash against Bieber got out of hand, so Gomez even intervened to advocate for her by posting an Instagram Story saying this madness must come to an end. Overall, fans have taken this situation out of proportion and are creating unnecessary drama in an attempt to cause conflict between Selena Gomez and Hailey Bieber, when both celebrities have settled their situation privately.