"Midnights" Deep Dives: Tracks 10-13
Track 10: Labyrinth 
Time for track ten! In "Labyrinth", Swift explores her fears of falling in love too soon and her inability to escape her heartbreak. Swift conveys this through the lyrics such as, 
"Uh-oh, I'm fallin' in love
Oh no, I'm fallin' in love again
Oh, I'm fallin in love
I thought the plane was goin' down
How'd you turn it right around?"
Swift also compares this apprehension to her fear of elevators, singing, 
"You know how scared I am of elevators
Never trust it if it rises fast 
It never lasts"
With her voice auto-tuned to be deeper and a soft background sound, the power of her lyrics are accentuated through the minimalistic approach Swift took on "Labyrinth". The darkness of her fears is conveyed through the gloomy and deep sounds of the track. One of her most adventurous tracks sound-wise, Swift gives advice to herself and the reader, singing, 
"Breathe in breathe through, breathe deep, breathe out"
She also included these lyrics in her acceptance speech for her honorary doctoral degree given from NYU in May of 2022.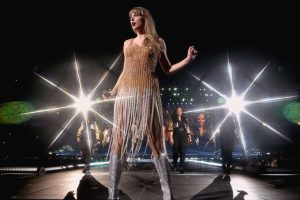 Track 11: Karma
One of the more lighthearted and fun tracks of "Midnights", "Karma" makes it easy for the listener to dance. Comparing the happy parts of her life to a result of karma itself, Swift sings about how karma got her to where she is today. 
"I keep my side of the street clean
You wouldn't know what I mean
'Cause karma is my boyfriend
Karma is a god, karma is the breeze in my hair on the weekend
Karma's a relaxing thought
Aren't you envious that for you its not?"
Swift celebrates her past rather than her usual anger and upsetedness towards it. In the bridge, she sends a message to those who have provided her the chance of having karma, singing, 
"Karma is the thunder rattling your ground
Karma's on your scent like a bounty hunter
Karma's gonna track you down, step by step from town to town"
As she did on her 2012 track "We Are Never Ever Getting Back Together"  and her 2017 track "This Is Why We Can't Have Nice Things", Swift turns her sour mood around by celebrating the heartbreaks in her life, and "Karma" is essentially a sum of that. She thanks karma for all it has given her and all it has done against those who hurt her.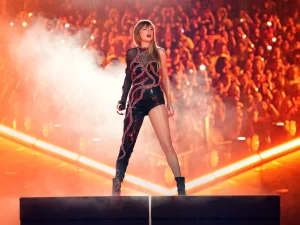 Track 12: Sweet Nothing
"Sweet Nothing" is one of the few songs on "Midnights" that is a pure love song. Swift sings about the nuance of being in love she loves most: not having to entertain or put on a fake smile. She writes, 
"They say the end is coming
Everyone's up to something 
I find myself running home to your sweet nothings
Outside they're push and shoving
You're in the kitchen humming
All that you ever wanted from me was sweet nothing"
The bridge is equally as loving, with Swift being able to admit to her person that she's "too soft for all of it". Who is this person? It is widely known that Swift dated actor Joe Alwyn (LINK) for six years, but since her Eras Tour began, there have been rumors and speculations that they have broken up. Fans may never know, but we will always hope Swift finds her sweet nothings once more. 
Track 13: Mastermind
Time for the final "Midnights" track! In "Mastermind" Swift reveals that nothing in her love life has been a coincidence: she has been dictating its course behind the scenes the whole time. She sings about her orchestration of her relationships, writing, 
"What if I told you none of it was accidental 
And the first night that you saw me, nothing was gonna stop me?
I laid the groundwork and then, just like clockwork 
The dominoes cascaded in a line"
Swift tells her reported ex-boyfriend how she planned the moves of their relationship and how she is the mastermind behind their love. 
"What if I told you I'm a mastermind?
And now you're mine
It was all by design
'Cause I'm a mastermind"
She then proceeds to inform him how she is not the only person to do this, singing,
"You see, all the wisest women
Had to do it this way
'Cause we were born to be the pawn in every lover's game"
Swift finally gives advice to those who are masterminds alongside her, telling them,
"If you fail to plan, you plan to fail
Strategy sets the scene for the tale
I'm the wind in our free-flowing sails
And the liquor in our cocktails"
To end the song, Swift decides to confess that she is a mastermind and that she has been one for a long time, singing,
"No one wanted to play with me as a little kid
So I've been scheming like a criminal ever since
To make them love me and make it seem effortless
This is the first time I've felt the need to confess
And I swear
I'm only cryptic and Machiavellian 'cause I care"
Of course, at the end of the story, he knew all along. 
"I laid the groundwork and then saw a wide smirk
On your face, you knew the entire time
You knew that I'm a mastermind"
The track is also filled with metaphors, such as between love and a chess game. A sweet story that ends happily and paints a picture with the lyrics, "Mastermind" perfectly narrates the trajectory of a love story.