Words Matter Open Mic
November 15, 2017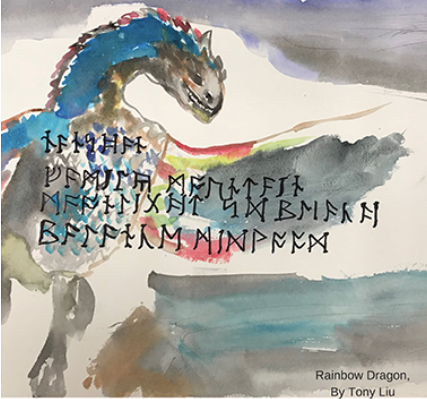 For the last 15 years, English teacher Richard Harris has provided Upper School students the opportunity to participate in open mic readings and to participate in The Scholastic Writing Competition.  This year, students in many of his eleventh and twelfth grade English classes, along with students in the Creative Writing Club, gave an impressive "Words Matter" Open Mic reading in Anne's Black Box Theater to display their work.  Many of the works will go on to compete at the regional and national level of Scholastics and to compete for publication in Best Teen Writing  and in our very own Blue Review.
         "When I looked back at my files, I realized it was way back in 2003 that I started making all of this a part of what our English department offers our students," Harris said, "I'm so glad that such creative writing events have become a strong tradition here, that we have had great success with this annual reading and with the Blue Review reading at the end of each year, and that we continue to earn national recognition for our student writing in the Scholastic Writing Competition."
This year, 24 students read at least one piece of their work during the open mic. India Persson,'18, and president of the creative writing club, introduced each student reader.
          "I especially like the fact that we get to express ourselves with the opportunity to read aloud in front of other people," Persson said.
As the reading took place near Halloween and came after a club workshop on Romantic and contemporary works using Gothic elements, each reader was encouraged to write about something in his or her life and in a hauntingly beautiful but contemporary styled work of poetry or flash fiction. The students put in a lot of effort, and it showed with the large turnout for the open mic event.  
To read some of the open mic selections, click here.
Readers: Kaelan Amin '19, Will Anderson '19, Ashton Barlow '18, Cole Barnes '19, Cecelia Berens '18, Connor Cantalupo '19, Olivia Clements '18, Riley Davis '19, Julia Gass '19, Mary Louise Kenny '18, Erika Kim '18, Fleming Landau '18, Tony Liu '18, Thomas Lockwood '19, Emma Martin '19, Cecelia Monnin '18, Wyatt Nabatoff '18, Annabelle Oates '18, Lilly Omirly '18, Ellie Perrigo '18, Michele Tian '18, Sophie Smith '18, Tess Wrigley '18, Jazz Zeng '18