Cooking with Mia Familia
As I scroll through the menu options on my TV I reach my favorite show, "Giada at Home." She's making a homemade pasta dish with figs. I rush upstairs to tell my dad that we should make this for dinner. "That sounds really good," he tells me. So we run downstairs in anticipation of a Giada-
inspired shopping trip, hop into the car and drive to the grocery store. 
The automatic doors slide open to greet us and the smell of freshly baked bread wafts beneath my nose. We stroll down the produce department, scanning the aisles for new and vibrant vegetables we've never seen before. I point out endive and daikon to my dad, fascinated by the exotic ingredients we've only heard talked about on cooking shows but never tried in person.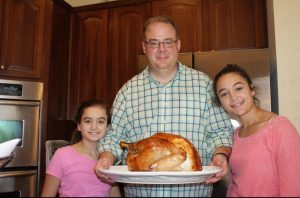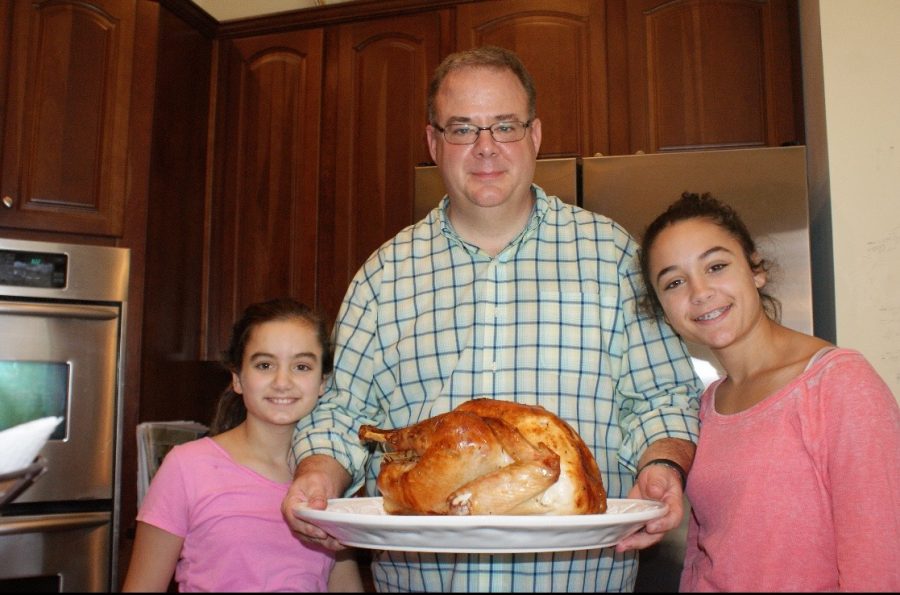 I love going to the grocery store because it is the first part of any culinary experience. We get to buy new and different ingredients, and my family and I get to expand our palates and enjoy becoming more sophisticated chefs. We purchase the figs, vibrant lemons and salty prosciutto for the dish. One of the best parts about gathering the ingredients is trying samples, so I ditch my dad and grab a sample of rosemary olive oil bread. When I bring the fragrant square up to my nose, the intoxicating aroma of rosemary makes my mouth water. We throw the rest of the ingredients into the cart and head home.
Unpacking the bags, I begin to organize the ingredients by placing them in sequential order while my dad gets ready to teach me how to cut figs. Prepping the fruit, Dad tells me about a fried macaroni and cheese dish he saw from "Carnival Eats." He describes the crisp, gooey cheddar that dripped down the host's (Noah's) chin in greasy, delicious strings. The mac and cheese is creamy and luscious and falls from the sides of the sandwich when he bites into it. I have become so lost in cheese reveries that I've forgotten about my serious task of fig chopping (sorry, Giada). I recognize how close I came to losing a thumb, leave thoughts of cheesy bread behind, return to my sharp knife and finish the figs. I grab the flour from the pantry, dump some on the counter, drop eggs into the well and start kneading.  
While I do love Giada, and my father and Noah are great pals, my family and I share a bond over cooking shows—it has become a great way for us to relax together and enjoy each other's company. Giada and Noah introduce ingredients that we haven't tried before, like the figs in Giada's recipe. When we immerse ourselves in cooking shows, we become transported into different cultures—we taste different spices and ingredients that we might otherwise never have heard of before.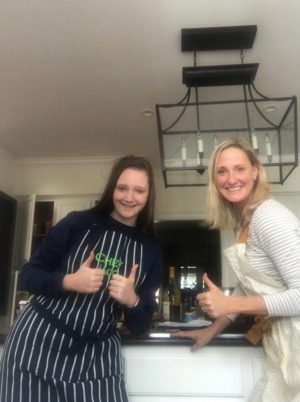 As high school students, we often find ourselves over-
scheduled and bombarded by schoolwork; we need to relax, and cooking shows provide an outlet that allows our minds to drift away from these responsibilities. "The shows excite me to try new recipes and expand my arsenal of skills, and they inspire me since the food just looks amazing and I really enjoy cooking," Jaqueline Giftos '22 said. Laura Han '22 reports that the high-energy format of some programs are what she sometimes craves, but the artistic aesthetic of other shows may satisfy her on different days.  "I usually watch 'Iron Chef' when I want to be excited and 'Baking Championship' when I just want to relax and enjoy their creativity," Han said. 
Overall, cooking shows just inspire and provide a way for students to unwind. "The food just looks amazing!" Giftos said. "I watch them to escape and relax," Han said. Moreover, competition shows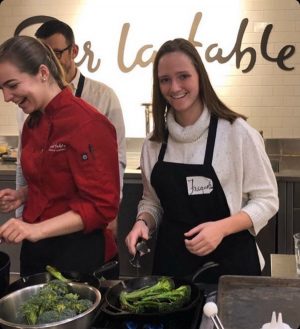 like "Chopped" offer not
only an element of surprise but also reinforce the importance of honing a craft and reward for excellence. "I watch competition cooking shows because I like how they work really hard to make something amazing each round and eventually there is a winner. I also get to try and predict who will win, and it's fun to see if I'm right. I'm also a really competitive person, so the fact that it is a cooking competition appeals to me," Kate Addison '22 said. "With family is more fun because we can laugh about how we could never do what the chefs are doing," Daniel Zhang '21 said.
The steam from the boiling water moistens my face, and the pasta splashes into the bubbling pot. We add the sweet, sticky figs and pour luscious orange juice into a saucepan. After tedious minutes waiting for the pasta it is finally done, and we transfer it to the sauce. I listen as everything sizzles when I drop the pasta into the pan, then I spoon mascarpone cheese on top—it covers the noodles luxuriously. Finally, we're ready to eat. 
For many of my peers, watching expert chefs relieves stress and sparks their creativity. For me, cooking brings my family together. I enjoy cooking with Giada and my dad enjoys cooking with Noah, but in the end, there is nothing like spending time with mia familia.