Inlustrate Orbem: Enlighten the world, and the building that will do just that
"I think it's an absolutely beautiful building, and a great addition to this campus."
—Hunter Murphy, Dean of Students
"You can chill out, do homework, or just walk around."
—Daniel Haughton'22
"There are so many beautiful things about Inlustrate that really feed the soul."
—Lawrence Wall, Head of Upper School
Charlotte Latin School's newest addition to its growing campus, the Inlustrate Orbem building,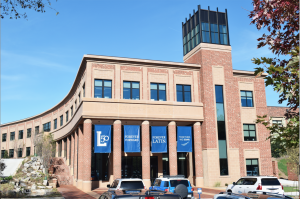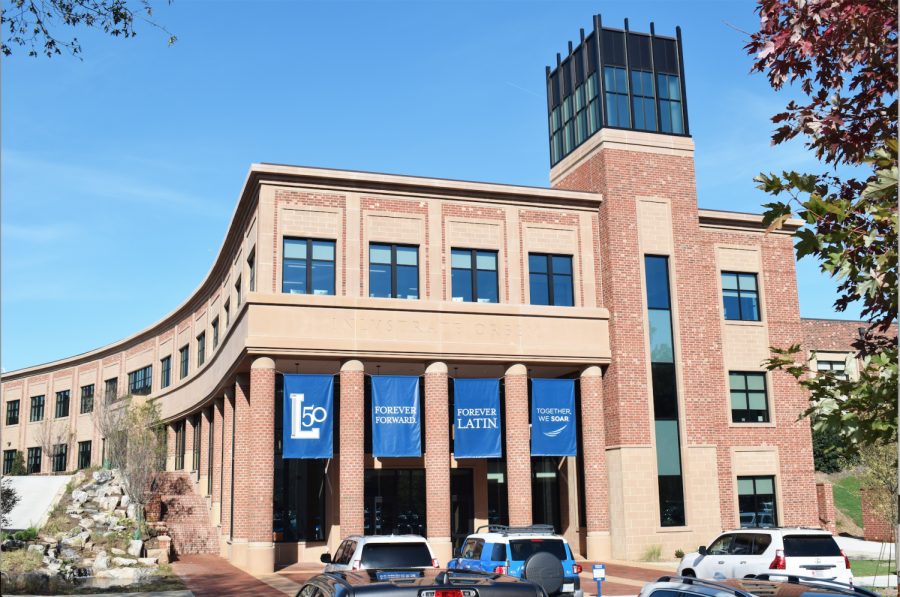 hasbrought all of its Upper School occupants together. Inlustrate Orbem translates to "enlighten the world," which has been Charlotte Latin's motto since the School's founding. The words appear at the top of every diploma, serving as a reminder and charge to graduates, challenging them to share what they have learned beyond Latin's campus gates.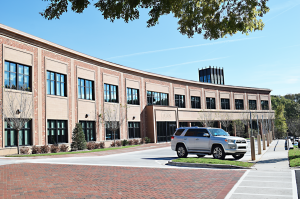 During school hours students flock to Inlustrate to do homework, meet with teachers or simply spend time with their friends. Now that they have had time to settle in, faculty and administrators are also enjoying their new home. Lawrence Wall, Charlotte Latin School's head of Upper School, expressed his appreciation for the new facility and how seamlessly the building has become integrated within the lives of the Upper School community. "I love it all, and it makes me so happy to see how far this building has come and transformed into a building that the entire school has embraced," Wall said. Everyone has come to appreciate Inlustrate because it has enhanced the teaching experience for both faculty and students alike with its modern, fresh architecture and new instructional spaces. Daniel Haughton '22 said, "I like the openness of the building, and how you can roam around, lurk around." Haughton also said, "Inlustrate has a really nice, open, free vibe." 
Inside Inlustrate there are many different classrooms and flex spaces to invigorate not only the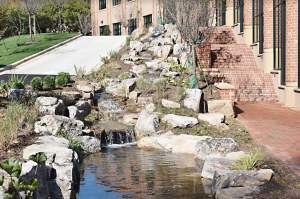 students' but also the teachers' educational experiences. "Not every room is the same size, or even furnished the same way, and in having a range of these things we thought that we could meet a lot of needs. The sheer increase in the number of rooms available has made it possible to run the kind of schedule we want to run and meet individual student needs," Wall said. Hunter Murphy, Upper School dean of students said, "It was really designed for students with space to hang out and work together and not necessarily have to be quiet, like in the library."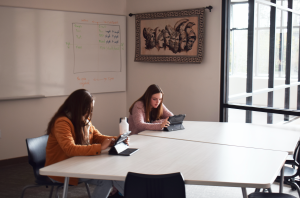 Everyone's expectations concerning the building have been surpassed, whether it was thanks to the flexible classrooms or the openness of Inlustrate's footprint. Murphy affirmed her admiration for the building's aesthetics. "I think it is an absolutely beautiful building, and a great addition to this campus, but also I don't feel like it's over the top." One of the building's most celebrated features is the expansiveness of the windows, which allows so much light into the study spaces. "I like the glass. The natural lighting is just so much better than the older buildings; that is something that just gives it an uplifting feel. I don't feel squished at all, and I like that a lot," Murphy said. Chloe Floyd '21 also expressed feelings of gratitude towards Inlustrate. "It is nice, because you get to see the administrators a lot, like Mr. Wall, Mr. Knull and Mrs. Murphy, and you get to know them better," Floyd said.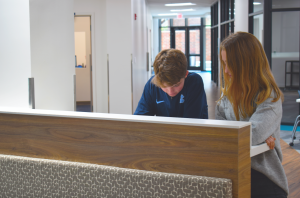 Previously, students moved almost exclusively beneath canopied sidewalks from building to building to get to their various humanities classes; now, they take all of that instruction within Inlustrate. "Students are not changing what they are doing; they are just changing where they do it," Murphy said. Because of Inlustrate, students now have a variety of spaces in which to relax. "The quad is still active, especially during the fifth and sixth periods. Students are still using their free time the same way—they are just choosing to do it in different places," Murphy said.
Inlustrate provides a place for studying as well as areas for students to congregate and converse. "I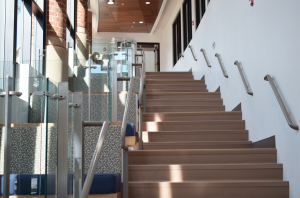 would say that the change is that it tends to be more socially interactive and is within a group of four or six. It is now much more okay for these interactions to occur indoors, now that there is a place for this to occur," Wall said. Of course, Inlustrate also serves as a place where teachers can continue to educate their students. Powell Paguibitan, Upper School world language and psychology teacher, said, "There is enough space that I can arrange the desks the way I want to and be able to move around the classroom and converse with the students if they have questions." Robin Siczek, Upper School English teacher said, "It's brighter, it's lighter, and the environment is much more open, and the whole building has a more spacious and happier vibe. The increase in space from the old English building allows for students to progress and thrive in the environment." 
Although the Inlustrate Orbem building is where students can study, meet with teachers or simply reflect, it symbolizes much more than just a new addition to campus. From within its bright and shining interior, faculty and students feel even more inspired to continue Latin's great tradition to "enlighten the world." 
About the Writer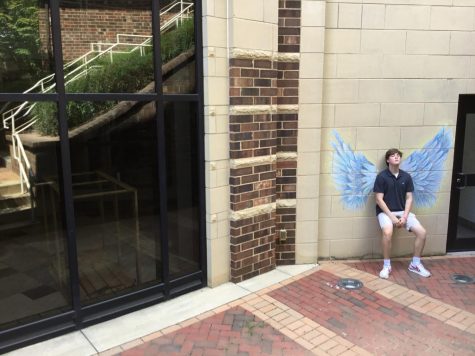 Ryan Lupfer, Editor In Chief
If I were to be reborn as a fruit, it would probably be as a pineapple. They are spiky on the outside and I have been told that I give off a vibe that...