No Fans in the Stands: How to Cure the Spirit Blues
No fans. No pep rally. No spirit? How can Charlotte Latin School show its school spirit during a global pandemic? Obviously, with the ban on spectators in the stands, the Latin community needs to work together and create clever new ideas to show the athletes their support.
All student athletes love having their friends come out to support them during their games. Not only has the pandemic eliminated spectators, but it has also reduced the number of games teams can play. Therefore, athletes are even more concerned with making each performance count. Lucy Dempsey '24 explained how she wants to have the fan's energy and excitement to help motivate her team and give them confidence before a game. "It's important to have fans support student athletes because it encourages them before a game if they are nervous and they know someone is supporting them," Dempsey said. Maddie Shannon '22 believes Latin's athletes thrive on its strong bonds of community to help them beat their opponent. "School spirit is essential to the Latin community, and the athletes wouldn't feel as motivated to win without the Latin community cheering them on!" Shannon said. 
Considering 90% of Latin students participate in at least one sport, it is important to find ways to maintain school spirit and the support of student athletes. Latin could go about school spirit remotely, much like it has approached academics. Other schools in North Carolina, like Middle Creek High School in Apex, came up with the idea of a virtual spirit week. Even virtual activities allow connections between teachers, students and others in the school community. Some of the activities included during the virtual spirit week were TikTok video challenges for faculty and students and dress up days.
How do we maintain school spirit without physically being in the stands? A very easy way to help integrate school spirit would be to simply have posters around campus to show that there is a big game coming up to make the athletes feel the energy on campus. Another, more physically present way to showcase athletic events could be a socially distanced parade before big games—this would be one of the benefits of a large, sprawling campus. Recognizing team leaders on game or match days is also important. Since there is more time in the schedule with zero period this year, the Spirit Club could decorate the team captains' cars before the games.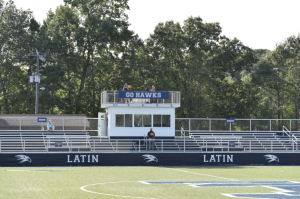 Latin Hawks recognized how much school spirit needed to be continued this fall, especially considering how short the athletic seasons were last spring and winter. This year the Upper School student body and the Student Council took action to keep Spirit Week active. They came up with theme days that would be repeated so that both A and B day students would be able to participate: pajama day will be themes for Friday/Monday and Thursday/Friday, and then for the grade theme days, for freshmen will deck out in neon; sophomores it will crank it up in rock and roll; juniors will go on safari; and seniors will head on a winter wonderland.  
Considering how well Charlotte Latin has done with the hybrid learning model, why not also try virtual pep rallies, too? The dance team could perform in SAC to recorded music, then the pep band could play through campus with student classes (six feet apart) cheering teams loading into buses as they head off to their away games. To help people get even more excited our mascot, Victor E Hawk, could visit classes in session during the day and hand out candy other treats, also followed by the pep band. Without the ability for Code Blue days this year, why not plan singular spirit days to highlight individual sports teams/big games this year? The students can have a certain theme for each particular sports team on that day.
As the fall semester has progressed, some of the safety protocols have loosened to permit a few spectators into the stands; the guidelines now allow two visitors for each athlete. Luckily, this progress seems to be heading the school into the direction of getting back to the pre-pandemic stage where students, friends and family could fill the stands and cheer on their peers. During these hectic times our school community needs to come together, don its blue and white and remember how important it is to keep school spirit strong, regardless of the length of any team's season or how many fans can—or cannot—be in the stands.