The Pandemic Semester
Written By Jaya Iyer, Reporter
November 20, 2020
It is a typical day in the Charlotte Latin Upper School. Physics class has begun, and the teacher, Mrs. Fabian, assigns a group activity. Two to three students collaborate and discuss the answers to their assigned questions while the teacher circles around to each group. After working together in their breakout rooms within Google Meet, the class returns to the main Meet room. This includes half of the students who are in attendance in room 626 at Latin with their masks on and their desks six feet apart as well as the other half who are learning remotely at home. It also includes Mrs. Fabian, who happens to be teaching from home. Whoever heard of a school without a teacher in the classroom? That must be a joke, right? Except this is the new normal for the fall of 2020's school year.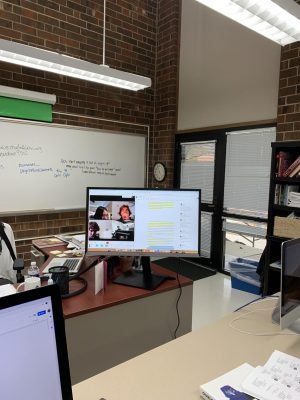 How is Charlotte Latin School managing this newly-implemented hybrid schedule, which includes weighing the school community's safety and the emotional and educational needs of the students? With plenty of experience with these new learning tools, both students and faculty are starting to feel like experts when it comes to this new learning environment. When the COVID-19 pandemic reached the United States in January 2020, within two months schools across the nation went dark. Empty lockers, empty hallways, empty classrooms. Almost six months passed without a fully functioning brick and mortar school. As it seems the virus may be here indefinitely, life cannot halt; education is more than just handouts and tests. After ending last school year fully remote, we can at last sit in a real classroom, one with white boards and other students and a teacher, even if it is every other day. Now that we have experienced remote learning as well as the hybrid schedule, students and teachers have taken the time to reflect on this unpredictable journey.
Many students enjoy the privilege of being back on campus and not stuck at home everyday. "There is no substitute for in person learning where you're in the classroom and talking to the teacher and other students. Also when I am at school I'm more active, and it creates a more engaging atmosphere," Aaron Logan '23 said. Agreeing with Logan's appreciation for in-person instruction, Ryan Samii '24 said, "I prefer campus instruction because it is a lot easier to focus and it is much more fun to be able to see my friends." 
There are definitely advantages to being on campus rather than being virtual because engaging with peers provides much-needed social interaction that is difficult to replicate with technology. "I would say it feels nice to not be doing work in my house 24/7. I also feel the hybrid schedule gives opportunities to get more involved in the school community since we are on campus every other day," AditiSatish '24 said. The majority of students would agree that being in person contributes to a better learning environment; however, some students prefer how relaxing it is to learn from the comfort of their own homes. Jessica Clover '22 said, "I am able to take breaks in between each period to get started on homework and relax. I also feel less exhausted since I am able to sleep in later." 
While Clover reinforced her preference for remote learning, she did express that there were drawbacks. "The worst part of online learning is looking at a screen eight hours a day, especially since I'm really sensitive to the blue light on the screen, which leads to very bad headaches," Clover said. Taylor McKinney '24 indicated appreciation for the balanced nature of Latin's hybrid schedule but also explained that it can still be challenging. "It's difficult shifting between remote and in person," McKinney said.
Because classes were every other day for shorter time periods in the spring, many students got used to the free time it provided. Although some believe that the workload has remained consistent, others have noticed a change. "My hybrid workload is actually more manageable than it was during fully remote learning, despite my class load being much more advanced/difficult than it was then," Kate Fultz '22 said. Others think it has taken a turn in the negative direction. "I feel as if I have received so much more work and I feel super stressed," Emma Carter '21 said.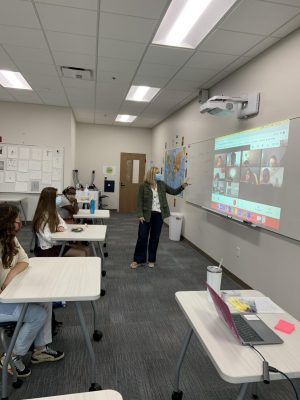 Every new schedule includes an adjustment period, and it takes time to work out the problems. Especially when technology is concerned, users can expect glitches that will occur when trying new tools. Google Meet, the online classroom, and Swivl, the new classroom camera technology, proved to be a little overwhelming when they were first introduced. Both students and teachers learned to be patient with each other and the technology. "We had great practice with Google Meet last spring. Having the desktop computers in the classrooms allows us to 'see' the remote students in the Meet while allowing us to use our laptops and other devices for class," Whitney Duquette, Upper School history teacher said. The teachers have been working hard to ensure the students have the best learning experience possible. Nothing is perfect though, as many students have reported wifi or internet issues both at home and at school, causing remote students to lag behind the rest of the class. 
Swivl, which includes a robot that rotates the screen to show the whole class at school and microphones stationed around the room, has its pros and cons. "Swivl is helpful because it is easier to hear teachers as they walk about the room," Hope Gottschling '24 said. Adding to this positive note, Serena Hu '24 said, "It enhances the learning experience because I can see the person who is talking, whether it is the teacher or a peer." On the other hand, some students believe the learning experience would be better without it. "It's actually kind of annoying and distracting both in class and remote because it moves around too much," McKinney '24 said. Affirming McKinney's frustration, Maddie Lanzillotta '24 said, "I don't like the Swivl camera because it makes it hard for the camera to focus and it is hard to read anything on the board."
All students agreed that while their remote days are not exactly the same as being on campus, there are times they feel part of the class experience and situations where they feel excluded. Thankfully, the teachers have put in extra effort to make sure, to the best of their abilities, that the whole class is involved in the day's lesson. "Some teachers ask for input from specific people whether at home or at school, so they can get a fairly equal amount of talking from people in person and at home," Samii '24 said. Expressing her gratitude, Gottschling '24 thinks that the teachers are truly going above and beyond to help the whole class connect with each other. "Most teachers have been very diligent about having cameras positioned everywhere they need to be in order for us to understand what is going on in the classroom, which is very helpful! They also always make sure we are included in discussions and are able to ask questions," Gottschling '24 said.
Unfortunately, there are some times where remote students feel disconnected from the class. "Oftentimes the video will cut out or you can't hear other students talking. I feel like I often miss parts of class," Caroline Wall '21 said. Voicing her opinion on how she feels being isolated on remote days, Fultz '22 wishes for a more personal setting at home."I feel disconnected from class when I can't see my classmates, which unfortunately is the case in the majority of my classes," Fultz '22 said. There is always a positive to every negative situation, as discovered by Tracey Vanneste, Upper School English teacher. "It has taken much longer to get to know my students and to build relationships. I have had to be much more intentional in my interactions (but I see this as a good thing)," Vanneste said.
Being at school has its issues too. Students miss even the simplest aspects that make school fun. "I miss hands-on work like labs or other group activities," Lanzillotta '24 said. Feeling trapped, Clover '22 believes the coronavirus and its restrictions has deprived Upper School students of their independence, a unique privilege enjoyed by students in the Upper School. "I miss having the freedom to go wherever I want. It's like I'm back in Lower School. Having a parent watch me eat lunch is the worst because I want that space to just relax and let loose with my friends," Clover '22 said. Fultz '22 brought up the concern of not being able to see friends who are not on her day, one of the main elements that makes school enjoyable. "I miss being able to hug my friends and cram into our lunch table together, and I miss seeing my friends who are on a different day than me," Fultz '22 said. 
After school activities have been affected as well, since they must follow the same safety protocols put in place during the school day.  "COVID has changed how I am able to play volleyball. We cannot have team huddles and handshakes or whatever. Also there are no spectators," Sophia Cartafalsa '24 said. Participating in a different activity, Jenna Upton '23 said, "I do theatre and we're doing a movie instead." In addition to after school activities, Fultz '22 explained how clubs have been difficult to run this year due to the pandemic. "It has impacted my ability to participate in clubs, specifically Latin Tutors, as we aren't able to go to Starmount Elementary School to tutor the kids as they are fully remote," Fultz '22 said. Although clubs are currently all remote, the school hopes to discover a way to bring them back in person the same way classes are held.
When you think of school online, what comes to mind? Many students would probably think about sleeping in, lying in bed wearing comfy pajamas, eating junk food while doing the required work for the day and having all the freedom in the world to do whatever you want at any time. What could be a more relaxing, stress-free environment than your own home? 
However, that is not the case at Charlotte Latin. Remote learning is just as vigorous as a regular day at school. "The most stressful learning environment for me is online learning, because occasionally, if the screen freezes or the audio stops working, I will miss notes," Hu '24 said. Logan '23 said, "Remote learning creates the most stress because there is a disconnect just by being remote. Then when there is homework, you sometimes only partially understand it. " Because it is harder to complete tasks when outside of the classroom and away from the teacher, Jackson Simerville '22 said, "Assignments are usually not as clear and it's harder to ask questions." Most students reported that remote learning creates an extremely stressful environment whereas being in person is more relaxed and easier to participate. Some students still do find school more stressful than home. "For me personally, I think in person contributes to most of my stress because when I'm in class I could be taking a test or quiz which makes me very stressed/nervous. Since the in-person crew talks more in class, I can relax when I'm remote and don't know the answer," Clover '22 said.
Considering the current options the school has, teachers have reflected on the pros and cons of how well the hybrid schedule is serving their needs. "Slowing down, and therefore not getting to as much of the content is particularly difficult in teaching an AP class. There will be an exam at the end that covers certain content and material over which I have no control, and I am trying to prepare my students to be successful on that exam with less time than I have had in the past to help prepare them," Amy Zinn, Upper School history teacher said. Duquette explained the extra time required to create lesson plans for in person and remote students. "It has been harder to get grading done because of the extra planning that goes into each day. Additionally, it is much harder this year to strike a work/life balance and be present with my family because of the amount of time school takes and how exhausting it is," Duquette said.
 However, the hybrid schedule has opened the door to new teaching techniques and creativity. "It has reinforced the need for the classroom to be student-centered and to try some new collaborative approaches," Duquette said. Stuart Bonner, Upper School English teacher said, "I've taken risks, which is as liberating as it is terrifying. Pretty much everyday is an experiment." Zinn said, "I think it is the best we could hope for right now in the current situation. I like being able to see at least some of my students in person each day, but it is REALLY hard to plan lessons/classes that serve both in-person and remote students equally well each day." Ending on a positive note, Vanneste said, "We live in challenging times, so I believe that Latin has found a great balance between being fully remote and fully back. We are attempting to find the best way to keep our faculty and our students safe. Students are able to learn in a safe environment. Being able to be at school is a privilege that our friends in public schools do not have." 
While there is no way to predict where we will be at the end of the year, we just have to take it one day at a time and appreciate how prepared Charlotte Latin School was for every unprecedented situation thrown our way. Every time you adjust your mask at school, inhale chemicals from the cleaning solution, or hear a stern reminder to keep a six feet distance from your friends, remember that your actions and sacrifices impact the entire school community, and take a moment to be thankful for the amount of time you are able to spend on campus, which is more than many other schools in the country. Whenever you log in to your virtual classes, be respectful to your teachers and treat it like a regular day of school, for this is a new and difficult time for them as well; again, take a moment to be grateful for how fortunate you are to be able to continue your education while at home. Overall, we must recognize that nothing is perfect, but the Latin community is doing the best they can to make school a safe, fun learning environment for everyone, and hopefully we will all be back on campus together in no time.