Art Thou a Man? A Modern Take on a Shakespearean Classic
Written By Mia Zottoli , Staff Reporter
February 9, 2022
Entering the theater during the Elizabethan era to watch a Shakespeare production, the audience would find the stage full of young male actors dressed in women's costumes, wearing women's makeup, and portraying female roles. Today, such casting would suggest not only a creative director but also a progressive audience. However, during Shakespeare's time, men played women's roles because women could not act until the 1660s, as society did not consider acting a suitable profession for women. With this in mind, Charlotte Latin School's production of "Romeo and Juliet" subverted typical gender norms, swapping many characters' genders and creating characters whose gender falls 
outside the gender binary, while also including a prominent space for women.
Matt Cosper, Director of Theater Arts at Charlotte Latin School and also of this reimagined production of "Romeo and Juliet," explained why Shakespeare's play lends itself to this type of gender fluidity. "After auditions we found ourselves in an interesting position. The group of actors we had, with their individual skill sets and talents, didn't line up with how a traditional production of 'Romeo and Juliet' would be cast, specifically with regards to gender. Luckily, gender in Shakespeare is quite often literally performative and he, as a writer, has a lot of fun with that." Because of this, many characters depict genders differently than how they were originally written. In the production, Romeo's gender changed from male to non-binary, with other actors using they/them pronouns to refer to Romeo. Meanwhile, my character, Friar Laurence, was interpreted purposefully outside the gender binary, using any pronouns. On the other hand, the Nurse, a traditionally feminine role, used he/him pronouns in this version. Additionally, the lines of Lord and Lady Capulet switched, giving the more masculine role ascribed to Lord Capulet to a woman and vice versa. Many other roles were also played by actors of the opposite gender. 
Even though this version of "Romeo and Juliet" maintains the core significance of the tale, subverting gender norms in this manner adds new perspectives to the timeless story of "Romeo and Juliet." "We are still portraying the same passion, lust, confusion, heartbreak and downfall that Shakespeare intended," Kate McCracken '22, who plays Juliet, said. However, this interpretation of the play can provide a new perspective on gender roles to the audience. For instance, because Romeo is historically characterized based on masculine expectations, changing their characterization challenges societal norms about how men should act. Lizzy Griesser '22, who played Romeo, said, "Having Romeo (historically a ladies' man and tough fighter) being portrayed as more feminine challenges the expectations of men to be soldiers and non-committal and allows non-binary and more feminine people to obtain this empowerment." 
Along with this interpretation of allowing traditionally masculine people to question their own proclivities, the script provides a space for feminine people and people outside the binary to also identify with Romeo. Whereas Romeo previously represented a paragon of masculinity, they now illustrate the balance between femininity and masculinity present in every person. Additionally, gender bending traditionally masculine characters can empower women. Assistant Director Campbell Loeffler '22 said, "As a woman, it's cool to see Lady Capulet get the traditional 'patriarch' role as the head of the family." Because European and American society has been a patriarchy for so long, seeing a matriarch at the center of the story highlights and challenges this power structure in our own society.
Swapping gender roles can also add further authenticity to the story. While many people can relate to the star-crossed lovers trope portrayed in "Romeo and Juliet," most lovers today are not separated because of a generational feud between their parents. Instead, many queer people can relate to the story; some might not be open with who they love because of their parents' misconceptions or the general opinion of society. Thus, by bending Romeo's gender and creating a non-heterosexual relationship between the main characters of the play, more people can directly relate to the message. Considering the frustrations facing the LGTBQ+ community in this century, this interpretation of the play feels quite relevant. McCracken said, "In this specific play, his plot of two lovers who cannot be together makes Romeo's gender-bending fit the story that much more." Also, because Shakespeare himself may have been gay or bisexual (given his many sonnets that describe love towards both men and women), making "Romeo and Juliet" a queer story seems like a choice the Bard might have considered himself had he lived in a more accepting time period.
Playing with the genders present in "Romeo and Juliet" can also help students understand their own identities. Ryan Samii '24, who plays the Nurse, explained how the production influenced his self-awareness. "Gender bending my role helps me to connect with my feminine side since the lines are typically supposed to be said by a female," Samii said. For me, playing Friar Laurence, a typically male role but a non-binary role in this production, helped me explore my masculine and androgynous sides. Instead of a feminine role that aligns with the norms imposed upon me since birth, playing a character outside the gender binary provides me a space to discover my own gender expression. McCracken also said that gender bending the characters helped her feel more like herself in her own role. "I've brought a lot of my personality to Juliet, and having Lizzy [Griesser] as my Romeo has only allowed for me to bring more of myself to the role." Additionally, Griesser said gender bending roles helps her understand the aspects of masculinity and femininity inside her. "I have to understand parts of myself and aspects of Romeo that are more masculine or more feminine," Griesser said.
On the other hand, some students have expressed concerns over the way the main relationship and the gender bending of roles was handled in the production. While making the decision to put two queer characters in a relationship marked a sign of progression for the school from the students' perspective, Romeo's non-binary identity may have confused the audience. Loeffler explained this issue. "Because we never all sat down and clarified exactly what the gender of certain characters (Romeo, Tybalt?) are, and what pronouns they use, I think the audience overall is not going to be aware of Romeo's gender identity and see it as a heterosexual relationship as many actors are still using he/him." Furthermore, the kiss between Romeo and Juliet, a key scene in the play, was cut in this production. Cosper discussed the reason behind these decisions. "Making it a straight-up lesbian relationship might be controversial, and I certainly have not shied away from controversy over the years…but that just wasn't at the core of why we chose to do this play." In focusing on the work and creativity of the actors, Cosper still noted that he believed the play helped to open the minds of the participants and the audience. "I do feel like change is gradual…doing what we've done with 'Romeo and Juliet' pushes the line a little bit."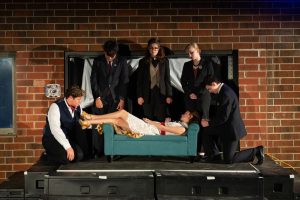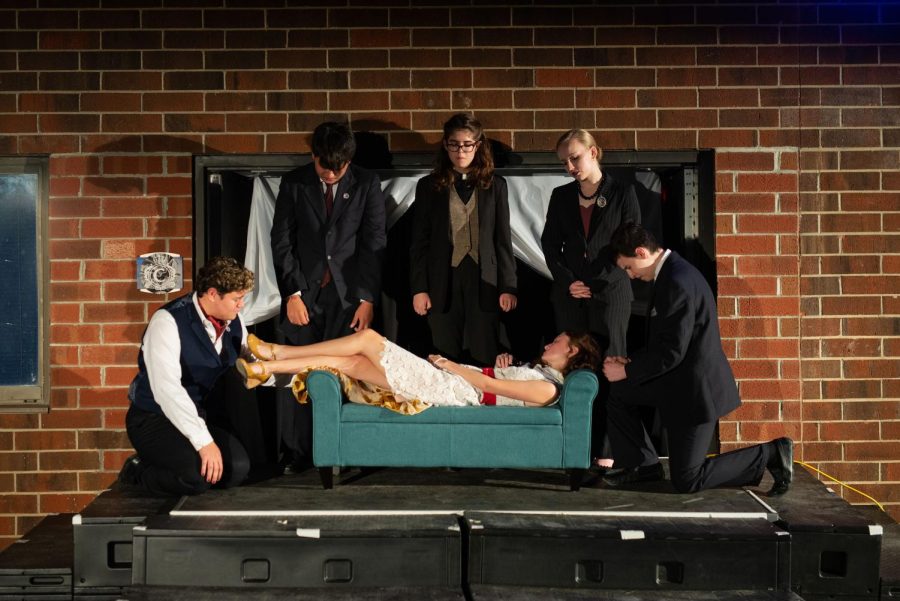 Even though the general atmosphere of society prevented the production from being more explicit about queer representation, a production such as this marks a positive change in representation in theatre at Charlotte Latin. In fact, Cosper said, "We've done what you might call "gender blind" casting many times at Latin. This is just the first time we've approached a work and said, why don't we just actually make some characters gender nonconforming or nonbinary?" This choice represents a general trend of progress in theatre on a larger scale beyond Latin, specifically with "&Juliet," a West-End production that puts a spin on "Romeo and Juliet," centering the musical around a strong female character and featuring a major nonbinary character. Students who participated in the production unilaterally agreed that this take on Shakespeare's classic will hopefully allow for more creative interpretations and further diverse opportunities for the actors. Griesser said, "I hope this show will open the doors for more inclusive and diverse productions." Loeffler echoed Griesser's sentiment. "I hope it allows more voices to be heard and different types of people, sexuality and gender-wise, to be seen onstage." As the director, Cosper allowed that this performance proved there is room for innovation and modernity, even within the canon of classical theater. "My perspective and hope is that we are opening opportunities for students; that we're not going, 'I'm sorry, you can't play that role, the author explicitly cared what kind of pants that character wears.'" 
Given the lack of queer, nonbinary and trans representation in the past in theatre at Latin and in the larger world, bending gender roles in our production of "Romeo and Juliet" will hopefully lead to a more inclusive theatre program in the future. Even though work still needs to be done to achieve a wholly inclusive theater program, our production overall marks a step in the right direction. The production provided visibility for many identities that previously were not represented in theater at Latin, a trend that hopefully continues, not only to benefit the LGBT+ community at Charlotte Latin but the school community as a whole. Through inclusion of diverse identities in theater, the larger community can learn about the experiences of marginalized communities, forming new perspectives that can bring a community together. Society has greatly progressed since the Elizabethan era as we no longer have men playing every role because women were not allowed to perform, but many communities still find themselves underrepresented. The gender-bending in "Romeo and Juliet" marks a great progression in society since Shakespeare's time, and we must continue to build on this concept in the years to come.