Ruff Times in the Upper School
Everyone knows that Charlotte Latin School is one of the best schools in North Carolina and, similar to other independent schools, sets an extremely high bar that the students have to jump to reach. This standard can cause a lot of stress in some students' lives that they often don't know how to handle. It doesn't have to be this way, though. There is a solution to the never-ending cycle of stress and mental breakdowns.
Woof woof. What was that blur of fur that just trotted by? Was that the principal shaking the paw of a Labrador Retriever? It had to be none other than an emotional support dog. The Upper School students rushed over with excitement, relieved that a dog was finally joining the school. But it made a turn and entered the Middle School building. The Upper School students hoped and waited for a dog of their own, but so far, it has not arrived.
A support dog in the Middle School may be beneficial. However, according to a 2016 study by Emerson Hospital, only 30% of sixth graders reported feeling high stress due to academic workload. By eighth grade, this number rose to 43%. In high school, this number climbed to 62%, which means more than half of the students are stressed daily. Using logic, Ana Burk '25 said, "If Middle Schoolers, who have significantly less stress than Upper Schoolers, have a support dog, wouldn't it make sense to help the students who have the most stress in the school?" Expressing her needs, Kristie Shams '24 said, "I want a dog now, please." A study by Pew Research found that anxiety and depression affect 70% of teens in the USA on a major scale and 26% in a minor way. KVC Kansas, a private, nonprofit child welfare and behavioral healthcare organization stated, "Research shows that academic stress leads to less well-being and an increased likelihood of developing anxiety or depression. Additionally, students who have academic stress tend to do poorly in school. This shows how this stress can keep kids from doing as well as they could. Research also suggests that if given help or a better academic situation, students will have better mental health." Based on polls from Niche, a website that collects data from schools, 38% of CLS students think that this school is nationally recognized and 54% believe that it is the best in the area. 18% of students take classes seriously and an additional 73% take classes very seriously while looking towards the future.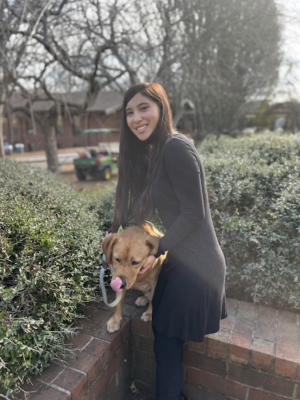 Todd Ballaban, Head of Middle School, and Sarah Kilby, Middle School counselor, generously set aside some time to allow a group of US students to visit Fisher, the Middle School support dog. When Fisher ran into the room with his tail wagging, a transformation took place. Middle School administrators' faces lit up (ours did too), and everyone's bodies relaxed immediately as we reached over to pet him. With the looser environment in the office, we were able to carry on a genuine conversation. 
As Ballaban explained, the idea for a support dog came from Coach Scott Moulton's service dog, Natalia, who assists him during Hawks Quest. Though Ballaban was skeptical at first, he made the decision to get one for the Middle School when COVID hit. After interviewing the dogs available, he hired Fisher. Ballaban and Kilby clearly see the results of having Fisher around. Students will show up to the office upset, stressed and feeling generally all over the place, but seeing Fisher instantly calms them. While a support dog is not the magical cure for all of the physical, emotional and psychological stresses that affect young people, spending time with the support dog when emotions are out of control can help anyone feel calmer, giving someone the chance to organize chaotic thoughts, feel less alone or even avoid making a poor, impulsive decision. From there, with a rational mind, the deeper issues can start to be addressed.
Upper School students definitely agreed that having an Upper School emotional support dog would help alleviate their school-driven stress. Claire Addison '25 said, "All of us have lots of anxiety. Dogs help." Lila Rhee '23 affirmed this statement. "Dogs are good for relieving stress, and I think it would make the campus environment more fun and relaxed. High school is really stressful and dogs are known stress relievers," Rhee said.
Alliance of Therapy Dogs (ATD) online, a national organization that provides training and certification for therapy dogs, proved with science the usefulness of support dogs, starting with the facts that petting one lowers blood pressure, and dogs improve memory and problem solving skills. CLS Middle School got their support dog, Fisher, from Project2Heal, an organization that donates puppies to serve individuals from various walks of life, such as children with special needs, adults with disabilities, and veterans with PTSD (from Project2Heal website). Their leaders said, "The dogs may motivate students to speak, complete academic classwork, practice reading and make decisions." This rationale applies especially to Upper Schoolers. "We find older students are especially happy to have puppy passes during exam prep week…From Kindergarten through twelfth grade, you will find students enjoying the benefits of a visit from a Project2Heal dog." Emotional support dog therapy programs at colleges reduced the dropout rate from 40% to 0% and made students more likely to participate in classes, PawsomeAdvice.com, a site dedicated to providing information to educate pet owners said. 94% of students reach out for help with the dog therapy when they previously would not without the dog.
CLS students universally agree that a furry friend for the Upper School to join Fisher in service as an emotional support dog would benefit them in all types of situations. In a survey, an overwhelming 96.7% of Upper Schoolers wish for a dog at school.
"The service dog could be beneficial to have around students by increasing comfort and reducing overall stress. Service dogs could also help students with underlying medical conditions," Vikram Dhillon '22 said. Adding on in a swag style, Andrew Jiang '24 said, "It helps the people who need it and would be a cool addition to the school." Neesa Phadke '24 agreed in a similar fashion. "They are incredibly therapeutic—especially for stressed high school students in the midst of chaos," Phadke said. Sydney Query '25, who attended Middle School when the support dog Fisher was introduced, reflected on her experiences with him. "Dogs help increase happiness, and that can have a positive effect on the school's mental health as a whole. Fisher has helped many kids overcome mental breakdowns," Query said. Many students, such as Jessica Clover '22, own a dog and see the benefits that they have on their lives. "I have four dogs who always make me feel better when I am having a bad day. The Upper School should have a service dog because all the students in the Upper School are stressed, and seeing a service dog walking around will alleviate the stress we have," Clover '22 said.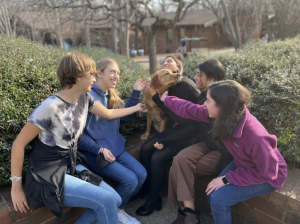 The longer the Upper School waits to incorporate a support dog, the more difficult it will be for students to find ways to decompress during the school day. "Service dogs really help for mental support because they are always there for you to love on and relieve your stress. For Upper School, where there is a heavy workload and many stressful situations, this could really help improve the mental health of those who need someone or something who you know won't turn your back on you," Kate Griesser '25 said. Elaborating about how support dogs could be helpful, she explains the importance of mental health. "With the recent suicide that occurred at Myers Park High School, awareness over suicide and mental health has grown immensely. I think Charlotte Latin should join in this awareness and address mental help by having the support of a service dog for the students who are struggling, such as the student from Myers Park. After all, it may only take a dog to change someone's mind, and it's better to try than to do nothing," Griesser said. Students at this very school agree. Alaric Pan '23 said, "I see many of my peers who like dogs struggling with all that comes with school, and having a support dog would be nice to help some get through the day."
Latin Hawks work hard and feel the stress of their challenging schedules and activities. The commitment required to reach the bar they set for themselves can take a toll. Students often fail to stop and take a break in their busy lives to prioritize mental health; a support dog will help. I want the school to be a safe, healthy, pawsitive environment, and I hope you do, too.