Filling in the Blanks with Color—Painting the Missing Words
Artists have a special gift that most of us can only dream of. Authors and politicians can describe a perfect world or the world we live in, but only artists can truly paint a clear picture of the vision in their minds. How they see the world is what they bring into reality through their craftsmanship. Art grants so much power. "For me, words don't always come as easily as color, and putting something into an image for people to look at and understand it the way I felt it I think is really really cool for so many artists," Rachel Hall '22 said. Hall creates art to encourage everyone to think about the world around them and pave the way for conversation.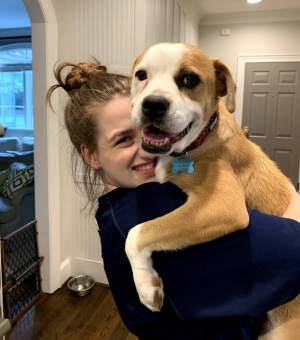 Hall has been involved in art since she was a child, always creating masterpieces out of any object she could reach with her tiny hands, including food. Her grandmother nurtured her creativity, drawing pictures with her whenever they visited each other and giving her paintings to hang in her room. As she grew, her experiences with the world around her shaped what she created. When Hall was in seventh grade, both of her grandparents' dogs died within a short span of time. It can be hard to put grief into words with the many feelings she experienced, but art can reflect all of those emotions at once. She incorporated printmaking, photoshop, collage, painting, and mixed media into a memorial for the dogs so she could sort through her feelings and heal. Because that piece was her to show her thoughts on life, it is also the first piece of art that she remembers being proud of.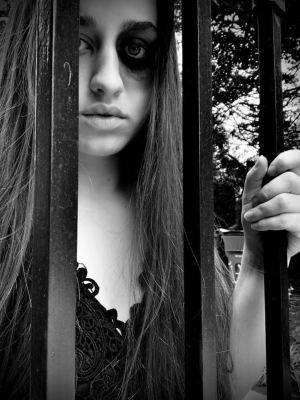 Her newest art project, her mannequin series, was inspired by her grandmother, who used to paint mannequins. The first one she made explored the use of color to portray emotions and helped her feel close to her grandmother. Hall said, "It was art for the sake of art." However, her second mannequin, the art project she is most proud of, has a deeper meaning. When a maternity store went out of business, Hall, who had already made one mannequin, asked if she could have the ones in the store. With this project (which ironically took nine months), the opportunity to make people think and talk about a controversial topic was created. "The second one was incredibly intentional, and I think that inspiration stemmed from frustration and a desire to promote change and discussion surrounding a topic that was really important to me, and I think that art is a great way to promote that discussion and force people to contemplate specific issues," Hall said. Hall wants people to realize that no matter their opinion on a topic, talking openly and politely about different perspectives is necessary and should be encouraged. She appreciates the comments she received from fellow classmates who told her that they felt seen from her artwork, and she feels a sense of pride and accomplishment that she is able to affect others in a positive way.
Hall hopes to continue the mannequin series in college. In the fall she will be attending Dartmouth College in Hanover, New Hampshire. Along with continuing her art, she is going to be studying veterinary medicine. She hopes to major in biology, more specifically theriogenology (which is the study of animal OBGYN). She does a lot of rescue work with fostering dogs, specifically pregnant dogs, as well as being a leader of the Paws for a Cause club.
She will miss Latin, the relationships formed with her teachers, how her senior class came together this year and her travel hockey. She is also very excited for her next part of life. "I've been at Latin for seven years, and I'm constantly looking for new experiences. I think college is really going to provide that for me, and I'll really be able to dive into my interests." Hall said.