Ms. Klein: The Woman, the Myth, the Legend
With 25 years of experience under her belt at Charlotte Latin School, Ms. Maria Klein has made an indelible impression on every person who has had the pleasure of working with her or being taught by her. As a faculty advisor for the Mosaic club, a co-founder of the Honors American Studies Course (aka AmStud), and a pioneer for diversity, equity, and inclusion throughout her time here at Latin, Klein has helped Charlotte Latin's community grow through her endless support of student voices. There is no doubt that Klein's students will embrace the advice she has given them throughout the rest of their lives because Klein not only teaches her students to become better academic learners, but she also encourages them to grow as people and become better members of their communities. As she nears the end of her final year as a renowned English teacher at Charlotte Latin School, Klein reflected on her past experiences, all the way from before Latin to the legacy she wishes to leave behind at this school.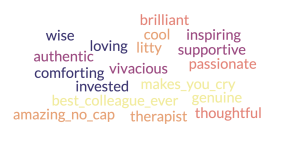 Klein began her career in education in the Bay Area after working as a wood carver, and "being a beach bum," in her words. She found herself constantly gravitating towards books, and after her wood-carving career, she got a job in a bookstore. Klein commented that this experience led her to begin thinking about teaching. "​​No matter where I ended up, what I always ended up doing was talking to people about books. And somebody said to me, more than one person said to me: you really ought to be an English teacher." At first, she was hesitant because of her past experiences in school. "See, I always hated school, and probably most of my teachers hated me. And I was always in trouble. Being a teacher was never on my radar," Klein said. However, eventually she went back to San Francisco State to get her teaching credential, and shortly thereafter began teaching English as a second language in a San Francisco public school. After that, she taught at Menlo (the haunted school, as her AmStud classes know) and then Santa Catalina School for Girls in Monterey (the one with the renegade nuns, according to Klein).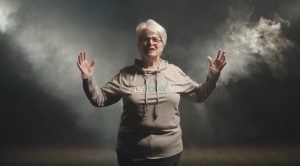 She taught at a few other schools after that, including one where she met Clint Eastwood and Paul Anka because their kids went to the school, and then she took some time off when her daughters, Sabina and Sana, were little. During this time, she began doing textbook writing. "It made a whole lot more money than you make teaching but I really hated it," Klein said. Once she had written the Alps P2400C printer user's manual, she knew the career wasn't sustainable for her. She said, "I wouldn't answer the phone. Because I was afraid it was a client that had a project for me. And my husband finally said, Ria, maybe this isn't a job for you. Because you can make a whole lot more money, but not if you don't take the job." After that, she ended up teaching students that just came out of ESL programs at West Valley Community College, and she loved it. "Sometimes I felt like it was in a TV show, because they had so many amazing stories," she said. And then, she got a divorce, moved across the entire country, and ended up at Charlotte Latin School, where unbeknownst to her at the time, she would stay for 25 years. 
At first, she was worried about the transition between living in California to North Carolina. "When I first came here, when I looked at this place, and they were offering to fly me out, I said, I can't go there because it's practically South Carolina," Klein said. However, Charlotte Latin surprised her, and she found a place among her fellow teachers, many of whom also weren't originally from North Carolina. Since her arrival at Charlotte Latin, Klein has noticed significant changes in the amount and diversity of the students at Latin. Instead of a school where everyone knows everybody, the student body has grown to the point where some people may never interact with one another. Klein said, "Just the other day a guy walked into the English office, and two of us went, 'we've never seen him before' and he was a senior. That could not happen in the first 15 years that I was at Latin." 
Additionally, the lack of diversity at Latin initially served as a culture shock for Klein, who was used to teaching in a California community college, with an incredibly diverse population. However, Dr. Fox, the head of school at the time, expressed the school's interest in diversity, and eventually Klein was placed on the strategic planning committee for diversity. In these meetings, Klein noticed misconceptions and prejudices from faculty and board members, although she said these have improved over the years she has been at Latin. Klein described an experience early on with a former board member. "He said, 'Well, I don't care if people are green, purple, orange, as long as they are qualified.' And I just flat out said, Yeah, but we're not talking about anybody who's green, purple, or orange, are we? We're talking about people who are black or brown, as opposed to white. So how do you feel about them? And why do you assume, because I never have had a filter, why do you assume that taking anybody who is not white means lowering standards?" From the beginning, Klein played a vital role in making this school more diverse, and although there is still a long way to go, the changes in diversity and inclusion the school has made fill her with great joy. 
Specifically, Klein highlighted the expansion of Mosaic club and the creation of the alliance groups that occurred during her time at Charlotte Latin. When she spoke about her proudest moments at the school, she highlighted the student-led progress that Mosaic has made. "My pride is for the kids, not for me, and it's for Mosaic and its expansion through the alliances. Just seeing all of that grow – working with kids to get BSA (Black Student Alliance), and then once we got BSA, GSA (Gender and Sexuality Alliance)." Klein explained that students had been campaigning for years to get alliance groups at Charlotte Latin, and for GSA specifically, it kept being shut down. "About 2000-2001, Dr. Fox's attitude at that point was we don't have any. We don't have the need for that. We are all a family and everyone loves everyone," Klein said. Over the years, Klein continued to assist students in their efforts to create alliance groups, and eventually Kaelin Bush '16 was able to form a BSA. Klein said, "After that, one just begot the next." Specifically, Klein mentioned a trip for her AmStud class to see Ta-Nehisi Coates speak at Davidson, where students met with Latin alum Meron Fessehaye '12 and were given an idea for the formation of a GSA at Latin. "She said, call it Q&A, and people will think it stands for questions and answers, which is educational, but it really stands for queers and allies." After Q&A was established in 2015, which eventually became GSA years later, ASA (Asian Student Alliance) soon followed, along with HLSA (Hispanic-Latino Student Alliance) more recently.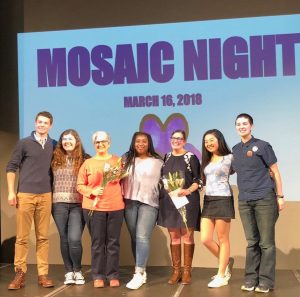 Along with alliances, Klein also expressed her pride over the creation of AmStud. She recounted the story of when Mr. Weiss first approached her with the idea for the class. "He came up to me, and was like 'Maria, I have a big idea.' Those are his words, 'I have a big idea.' I'd like to talk to you about whether you might be interested? I'm like, if Mike Weiss has a big idea, you're interested." He described a class in which students were taught to be historians, rather than just AP students, and he wanted Klein to add the perspective of literature to American history. After that initial meeting, the two developed the course, and then they had to get the school to approve it. "The big impediment to getting the school to approve it was the fear that nobody would take it because they had to choose between APUSH or American Studies. We had to convince the administration that kids would sign up for it, and then persuade the college office that it would be equally rigorous, and that colleges would be more impressed," Klein said. Then, for the first AmStud class, Honors American Studies received the numbers, with students choosing the class over APUSH, and some students who took AmStud got into some of the most selective colleges, including Columbia and Yale. This cemented AmStud's position as one of the most rigorous and innovative courses at Charlotte Latin, and although the course will switch to only a history course next year as Klein retires, the spirit of this course will live on through next year's AmStuders. 
Throughout her time at Latin, Klein has inspired a countless number of students and has encouraged this school to grow, truly making the people and places around her better than they were when she found them, although she would give a more humble response when asked about the influence she has had on others. In fact, when asked what legacy she wishes to leave behind at Latin, she again expressed her appreciation for her students. "It's interesting to talk about leaving a legacy at the school because I think a teacher's legacy, if a teacher has a legacy, it's in the kids I taught and you'll all graduate and go out. So I guess I don't think of leaving a legacy at Charlotte Latin. Like in two years, nobody's going to know who the person is, whose name is on that plaque. I hope that kids…" At this point Klein began to get emotional. "Oh Mia, you have done what almost nobody else has done yet." She paused, and then continued. "I hope the kids remember the things that we talked about in class, and I hope they remember Mosaic and Mosaic night and I hope they remember the power of great literature to teach you empathy and to teach you how to be human. And to teach you how to be just a good activist in making this a world that's better for everyone and, and then that they follow their dreams and that they don't let somebody else program that. And that's the hope; I know the stories are entertaining, but mostly they're telling you to listen to your inner voice, trust yourself. Don't work for money. Don't work for a paycheck, work because you love the job and because it makes the world a better place. If some kids leave and remember those messages, that would be the legacy that would thrill me beyond words."