Viva Las Vegas in Uptown Palmer Building: Hawks Return to Historic Location for Prom
Due to COVID-19 protocols, the 2021 prom had to occur with accommodations in order to prevent an outbreak. This prom was located outdoors on our school turf with all students wearing masks. Although not an ideal way to spend prom, this was the only way it could happen. This year, with the virus becoming more normal within our everyday life, prom could happen in a normal environment. Prom 2022 took place off-campus at the Palmer Building in uptown Charlotte. We asked a group of seniors to help us compare the two totally different experiences.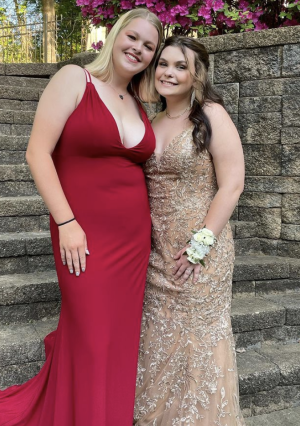 After voting, it was concluded that 83.3% of seniors voted for prom at the Palmer Building and 16.7% were in favor of last year's turf field. Those in favor of the back-to-normal prom felt that the setting is what really made the night so special. Maret Claytor '22 said, "It was really nice to be in a setting that was not the CLS campus." As a lacrosse player, Claytor indicated she enjoyed the change of scenery. "It felt weird having a school dance on the field I played on every day of the 2021 prom," Claytor said. Molly Berger '22 also felt as though the open options of places to go during the 2022 prom were much nicer. "The option to either stay inside or go outside at the Palmer Building was very nice to have," Berger said. Berger did not like the way the pollen on the turf field damaged her dress during last year's dance. "Last year, I had to deal with a lot of pollen getting stuck to my dress," Berger said. On the opposing side some Hawks preferred prom on the turf due to both the atmosphere and activities possible with an outdoor location. Ryan Beam '22 said, "The Palmer building was a little too loud and I had a lot of fun playing cornhole on the turf field last year." 
Typically students preferred this year's prom over the turf prom. Their favorite parts varied from the delicious food to the photo booth to hanging out with friends.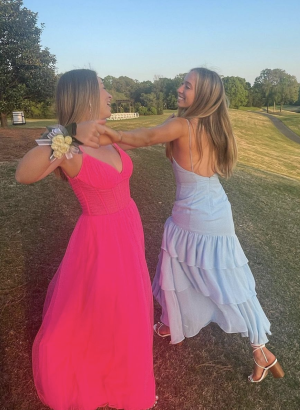 Claytor said, "The band was super fun since they played the best songs and made the dance floor very energetic." Claytor also enjoyed the various memorable elements to this year's Palmer Building location. "I enjoyed the delicious Italian ice as a snack and had so much fun in the photo booth taking cute photos with some of my friends." Prom did not only appeal to the party people but also those who had a great time getting to dress up and hang out with their friends. "I think just getting to spend time with my friends—I'm not a huge party person, so I really don't enjoy being in the big mosh pit by the stage, but just hanging out and getting dressed up is fun," Ryan Beam said. The dance itself was exciting; however, some students preferred the dinner and pictures pre-event. Before the dance groups went to country clubs, gathered at houses or ate at restaurants. Molly Berger 22' said, "My favorite activity was our dinner. We got hibachi and it was so fun and memorable." 
Our school is lucky to have held prom in 2021, even though it had accommodations to follow the coronavirus guidelines, but this year's dance was even more thrilling because it reflected a return to time-honored and cherished Latin traditions. It was amazing to be back to normal this year as a school, which also meant a normal prom. The Palmer Building provided the perfect location for upperclassmen to gather and create their 2022 prom memories.